Fabric Spray Paint from Tulip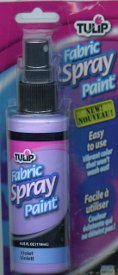 Fabic Spray Paint from Tulip
Gifted by I Love to Create
www.ilovetocreate.com
Reviewed by Maria Nerius

The testing team was sent a variety of colors and might have gone a little wild while testing! This was a fun product that we used to make testing team T-shirts. I'd love to show you a photo of the results, but the testing team wants to remain anonymous and refused to have their picture taken. There are 21 colors available in this product line including fun colors like the ones we tested: Sapphire, Dark Teal, Neon Green, Sparkling Star, Christmas Red, Cotton Candy, and Sunshine. The paints are non-toxic and eco-friendly. The spray nozzle of this bottle has been designed to give the user complete control. There is no air in the bottle so you don't get any accidental sputtering. It's permanent paint and holds up to repeated washings. You should protect your work area with plastic sheeting. You should also protect your hands with rubber gloves.

Testing Feedback:
The bottle was designed perfectly. I expected some sputter or splatter when I tested the product, but it sprayed clean.
There was little mess. I thought we'd be getting paint everywhere, but the spray goes where you want it. Not all over the place.
I liked the vibrant color. The paint dried quickly and has held up to several washings. Great for kids.
The paint remained very flexible after sprayed on the fabric. It didn't get stiff or sticky.
The packaging was very helpful. I knew how to use the product from reading the packaging and bottle label.
You can clearly see the color you are about to spray. It's easy to coordinate several colors.
I used it with some fabric stencils I had. Worked beautifully.
On the company's website there are instructions for a Crumple Technique, where you crumple the fabric, then spray. You can repeat this with another color if you like. I really liked the results. I created a very unique T-Shirt for my granddaughter (she loved it).
You didn't have to heat set it; just wait 72 hours before washing (inside out). It was nice to skip a step when fabric painting.
I created a unique piece of fabric that I'm going to use in a quilting project. It was fun to make my own fabric design.
A team of 7 craft experts and hobbyists tried the product(s) and their views were compiled into a review by Maria Nerius. Do you have a product you'd like reviewed for www.FaveCrafts.com? Contact us.
Your Recently Viewed Projects