Spice up your kitchen with some vintage home decorations. Party guests will definitely fall in love with your cool-looking Amish pitcher from I Love to Create. You can even use it just as a decoration, too!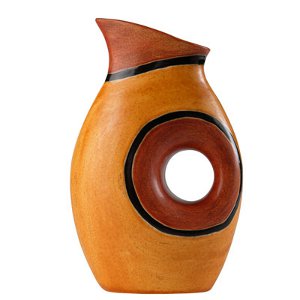 Materials:
TL 420 Palette Knife
Duncan® Concepts® Underglazes for Bisque and Majolica
CN 253 Dark Black
Dinnerware Bisque Designs
Contempo Pitcher 5.75" x 3.5" x 9"
Signature Brushes

SB 802 No. 1 Liner
SB 806 No. 6 Round
SB 808 No. 4 Round

Courtyard Art Glazes™

CY 118 Pumpkin Spice
CY 122 Rustic Sunset

Paper towels
Paper cup
Foil or foam plate for palette
Container for water
Potter's sponge
Pencil

Instructions:
Wipe ware with damp sponge to remove bisque dust.

Pour an ounce of Rustic Sunset into a paper cup and thin slightly with water to a light cream consistency, mixing with Palette Knife.

Pour thinned glaze into pitcher and roll and swirl around until entire inside is coated then pour excess back into cup. Wipe away any drips or runs on outside of piece with a damp sponge. Note: One rolled coat is sufficient for good coverage inside pitcher.

Use a pencil to lightly sketch in a 1/4" wide line around top of pitcher and around circle opening on side of pitcher. Refer to the photo.

Fully load the No. 1 Liner with Black and neatly apply three smooth coats to the two sketched in bands.

To the inner circle area and to the top diagonal section, using No. 6 Round and No. 4 Round as needed, apply three smooth, even coats of Rustic Sunset. Note: if glaze is extremely thick, thin slightly with a few drops of water. Carefully butt the glaze next to the Black bands as shown.

Apply three coats of Pumpkin Spice to the remainder of pitcher (including the bottom), using the two Round brushes. Let dry thoroughly.

Stilt piece and fire to shelf cone 06.

Use a stilt stone or Dremel Tool to remove stilt marks.
Your Recently Viewed Projects