Hand-painted treasure boxes are the perfect gifts and table favors for a pirate-themed party.
by DecoArt.com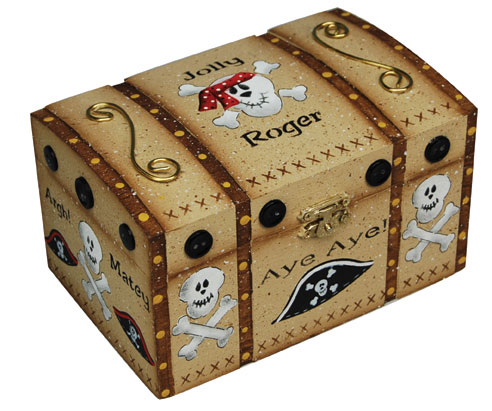 Materials:
DecoArt Products Required
Laurie Speltz's Instant Images
IIT01 - 3/4 in. Flat Brush
IIT04 - 4 Flat Brush
IIT05 - 1 Short Liner Brush
IIT06 - 3/8 in. Duo Tool
IIT07 - 1/4 in. Duo Tool
IIP09 - Pirate Adventure Pocket Template
Americana Acrylics
DAO1 - Snow (Titanium) White
DAO64 - Burnt Umber
DAO67 - Lamp (Ebony) Black
DA143 - True Ochre
DA170 - Santa Red
DA242 - Fawn
Supplies
Gold wire
Buttons
Black permanent ink pen
Adhesives
Wooden chest

Steps:
Using 3/4" flat brush, base entire box with Fawn. Spatter with Burnt Umber and then with Snow White. Base trim with Burnt Umber and 4 flat brush.

Pounce or shade edges and sections of box with Burnt Umber. Add Xs around box with Burnt Umber.

Add gold dots with True Ochre.

Skulls are based with Snow White. Dry brush shading using Lamp Black. Add faces and details with Lamp Black.

Pirate hats are based with Lamp Black. Add trims with Snow White and/or Santa Red as desired. Add small skulls to hat and details with Lamp Black.

Bandana is based with Santa Red. Pounce a little Lamp Black for shading on edge of shapes. Dots are Lamp Black and Snow White.

Words around box are done with Lamp Black.

Add fine details with permanent ink pen.

Curl wire and attach to box. Adhere buttons as desired.

Helpful Hint
Refer to template and tool packages for additional information on template and tool usage and techniques.
Your Recently Viewed Projects