32 New Baby Craft Ideas
Every homemade baby craft you'll need before the new addition arrives!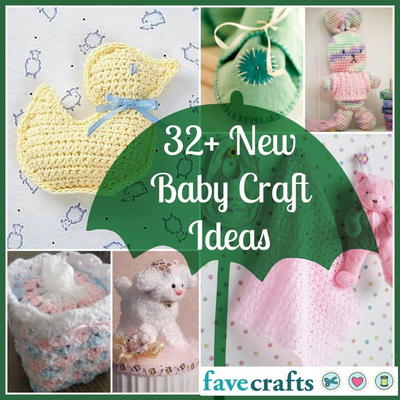 Who can't help but love a new baby? Those chubby cheeks and little fat toes just melt the heart...so why not create a special welcome for a new little girl or boy with one of these new baby craft ideas? From baby shower crafts to wearables you can make with ease, we have everything you need to welcome your new bundle of joy!

So whether you're welcoming someone into the world, or you know someone who is, these 32 new baby craft ideas are perfect for creating a memorable and meaningful celebration of life and love.
Table of Contents
Baby Shower Crafts to Make
Throwing a baby shower is a sweet thing to do for a mommy-to-be, and with these easy baby shower crafts to make, you'll have everything decorated and organized in no time! Create centerpieces, invitations, favors and tons of other baby shower crafts to help make your shower memorable for everyone!

Whether you're going to or hosting a baby shower in the near future, we have lots of baby shower crafts to make for the big day!  Along with decorative baby shower crafts, we've also included ideas for invitations and party favors, everything to create a stress-free and fun celebration!
Craft Ideas for Baby Gifts
Whether it's funky baby clothes or cute and cuddly toys, homemade baby gifts are a great way to show your love for a new baby. Craft ideas are aplenty here, as we have great projects for those who love to crochet, scrapbook, and knit! And the great thing about these new baby craft ideas is that they're great for showers, first birthdays, Christmas, or just because!

And when the little bundle of joy finally does arrive, what better way to welcome it to the world than with sweet homemade baby gifts? These craft ideas for baby gifts are all easy to make and can be customized to fit a new boy or girl. We even have great gifts for those parents who would rather be surprised by the gender when the big day arrives! With these new baby craft ideas, you're sure to give a gift that will be both meaningful and unique.
Wearable Crafts for Babies
It seems like people are always up for knitting and crocheting for baby! From crochet baby blanket patterns to newborn knit hats, we have lots of wearables and blankets that are perfect for your little one. These new baby craft ideas are easy to make and fun to give!

Some of the most popular things to make for new babies are knitted baby blankets and crochet hats for babies. With our collection of wearable crafts for baby boys and girls, you can make baby onesies, baby afghans, and even little booties for the new baby in your life. And with lots of options for different blankets and clothes, one of these new baby craft ideas is sure to be just right for you and your little one!
What crafts do you make to welcome a new baby?
Your Recently Viewed Projects