Mother's Day Collage Tray
Homemade Mother's Day crafts make the best keepsakes! Use old photographs and inspiring messages to create a Mother's Day Collage Tray from Savannah Starr. Use your tray to serve mom breakfast in bed. She'll love the personal touches and might get a little emotional!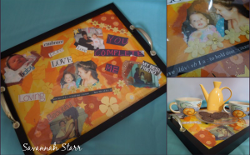 Materials:
Aleene's Collage Pauge Instant Decoupage
Picture frame with glass and sturdy back (be sure to select a sturdy frame)
Drawer handles (and screws)
Drill and drill bit
Collage papers (tissue paper, handmade paper, magazine clippings)
Photos (laser copies of original photos are the best to collage with)
Paint brush
Optional: glitter, ribbons and trims
Optional: white acrylic paint
Instructions:
For my collage papers, I found some tissues and handmade papers in my mom's favorite colors of oranges and yellows.



To prepare for your collage, tear your papers into strips and various sizes. I like to tear my pieces but if you prefer, you can also cut them. You will be gluing them onto the back piece of your frame. Some frames come with cardboard, matboard or with lightweight masonite. If you are using light colored papers, you might want to first paint the backing white so that the paper colors will remain bright when you collage them. Working small sections at a time, brush Aleene's Collage Pauge onto the backing and lay the pieces into the glue. Brush another coat of Aleene's Collage Pauge over the top of the papers. Continue until you have the entire surface covered with papers.



Next, tear or cut your photos to desired size.



Glue them over the papers along with magazine clipping words.



I covered my entire surface with a collection of pictures, words, ribbons, glitter and trims. Let dry completely before re-assembling frame.



While you are waiting for your collage to dry, you can add the drawer handles to the frame by simply attaching directly to the frame with screws.Reassemble your frame to use as a tray. Depending on the sturdiness of your frame and glass, keep in mind that you do not want to carry heavy items on this frame tray.


For a comprehensive video tutorial of this project, check out How to Make a Collage Tray from a Frame.
Your Recently Viewed Projects