Simple Side Table
This simple side table is perfect for you home! How do I know that? Because you make it yourself from scratch! Use this tutorial to learn how to build a table.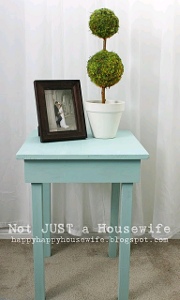 Materials:
Wood
Jig Saw
Miter saw
Wood glue
Brad nail gun
Tape measure
Sandable putty
Paint

Instructions:
I bought a board that measured 18" by 36". I measured then drew a line down the middle so I would have 2 table tops measuring 18" by 18". You obviously only need one, but since I was planning on making a bunch I needed more. I used a jig saw to cut the wood.



Then I used 1"x4" boards for the front, sides, and back. I wanted there to be a 1 inch lip or overhang so I measured and cut 2 boards 16 inches long. That is one inch taken off for each side.





I used my miter saw to cut the rest of the boards.

Then, since 2 of the boards will go inside the other two boards to form a box, you need to minus the width of 2 boards together. In this case, 1 1/2 inches. So the second 2 boards I cut were 14 1/2 inches.



Do you see how 2 of the 1x4s fit inside the other two? That is why 2 needed to be shorter.



Add a little wood glue and then use a brad nail gun.



The next step is to determine how high you want your table. I wanted mine 2 feet tall. I cut some 2"x2"s for the legs. Add some wood glue and then nail them into the corners of your box. It is very important to make sure it is flat before nailing on the legs. If the legs are not flush with the top of the box then your table top will not lay flat on your base AND your table will wobble.



Your base is almost done :) You just need to add some 1"x1" to help hold the top on. Measure in between the legs and then cut your 1x1 that size.



Add some glue and nail. Do this all the way around the base - all four sides.



Then add glue to the top of the base, flip it over onto the table top, and nail through the 1x1. This will attach the top to the base.



You will need to fill the nail holes with putty. Pick one that is sandable so you can sand it smooth when it dries. I HIGHLY recommend Elmers stainable, paintable and sandable wood putty. Not only do I sand where I added putty, but I sand the hole thing. Especially the edges and corners. I try to round them a little. Use a fine grit sand paper or you will end up with lines (scratch marks) in your wood.



I painted mine and then (this is optional) sanded it to give it that shabby chic look.
Your Recently Viewed Projects
Join our community of 5 million crafters!
Get free craft projects, exclusive partner offers, and more.
Thank You for Signing Up!
There was an issue signing you up. Please check your email address, and try again.