Autumn Backpack
This felted autumn backpack from Patons is great for a leisurely hike through the woods. This free knitting pattern has a beautiful tree motif and looks great in rich fall colors.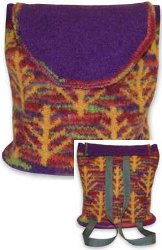 MATERIALS
Patons Classic Wool (100 g/3.5 oz):

2 balls of 77236 (Harvest) as MC,


1 ball each of 00204 (Old Gold) as A and 00212 (Royal Purple) as B.

Knitting Needles: size 5 mm (U.S. 8)
Circular Knitting Needle: 5 mm (U.S. 8) 24 ins [60 cm] long.
Double Pointed Knitting Needles: set of four size 5 mm (U.S. 8) or size needed to obtain tension.
46 ins [117 cm] of webbing 1 inch [2.5 cm] wide for Straps.
45 ins [114.5 cm] of cord for drawstring.
MEASUREMENTS
Approx 12 ins [30.5 cm] wide x 12 ins [30.5 cm] tall, excluding handles, after felting.
TENSION
19 sts and 25 rows = 4 ins [10 cm] in stocking st.
INSTRUCTIONS
MAIN SECTION
Felting Note: To keep Fair Isle area of Bag from shrinking too much when felted, when working from Chart, carry color not in use loosely across WS, but never over more than 2 sts. When it must pass over more than 2 sts, twist it around color in use every 2 sts or at center point of sts it passes over.
With B and circular needle, cast on 144 sts. Join in rnd, placing marker on first st to mark beg of rnd.
1st rnd: Purl.
2nd rnd: Knit.
Rep last 2 rnds once more.
Next 2 rnds: Knit.
Next rnd: (Eyelet rnd). K7. yfwd. K2tog. (K12. yfwd. K2tog) 4 times. K14. K2tog. (K12. yfwd. K2tog) 4 times. K7.
Next 2 rnds: Knit. Break B.
Next 2 rnds: With MC, knit.
Work in Chart to end of chart, reading rnds from right to left and noting 24-st rep will be worked 6 times. Break A.
With MC, knit 4 rnds. Break MC.
Shape base: 1st rnd: With B, K18. (K10. K2tog) 3 times. K36. (K10. K2tog) 3 times. K18. 138 sts.
2nd and alt rnds: Knit.
3rd rnd: K18. (K9. K2tog) 3 times. K36. (K9. K2tog) 3 times. K18.
5th rnd: K18. (K8. K2tog) 3 times. K36. (K8. K2tog) 3 times. K18.
7th rnd: K18. (K7. K2tog) 3 times. K36. (K7. K2tog) 3 times. K18. 120 sts.
8th rnd: Knit.
Dec 6 sts on next and every following alt rnd, as before, until there are 84 sts, changing to double pointed needles when necessary.
Next rnd: Knit.
Next rnd: K18. (K2tog) 3 times. K36. (K2tog) 3 times. K18. 78 sts.
Close base: Cast off. Align cast off sts to form center of base. Sew cast off sts tog using flat seam.
FLAP
With pair of needles and B, cast on 15 sts.
1st row: K2. M1. Knit to last 2 sts. M1. K2. 17 sts.
2nd row: Purl.
Rep last 2 rows to 45 sts. Place marker at each end of last row.
Cont even in stocking st until work from beg measures 12 ins [30.5 cm], ending with RS facing for next row. Cast off.
Edging: With RS of Flap facing, circular needle and MC, pick up and knit 33 sts down side of Flap from cast off edge to marker, 23 sts from marker to cast on edge, 15 sts across cast on edge, 23 sts from cast on edge to second marker, and 33 sts up other side of Flap to cast off edge. 127 sts.
Knit 2 rows. Cast off knitwise (WS).
FINISHING
Felting Tip: Before felting, weave a shoelace through eyelets and tie ends together. The shoelace will keep the eyelets open during the felting process.
Felt pieces following How to Felt instructions. Shape Flap to measure approx 7½ ins [19 cm] wide by 9 ins long. Flatten base of Main Section so Backpack will stand. Locate eyelets at top edge of Main Section and enlarge with double pointed needle.
Dry pieces away from heat and direct sunlight.
Cut webbing into 2 pieces each 23 ins [58.5 cm] long for Straps.
Place markers on top and bottom edges of Main Section at center back. Sew one end of each Strap to Main section on either side of marker below eyelet row. Sew unshaped edge of Flap to Main Section below eyelet row, having Flap centered and covering ends of Straps. Sew opposite ends of Straps to bottom edge of Main Section 4 ins from marker.
Beg and ending at center front, weave Cord through eyelets. Adjust length if desired and knot ends to secure.
Your Recently Viewed Projects
Join our community of 5 million crafters!
Get free craft projects, exclusive partner offers, and more.
Thank You for Signing Up!
There was an issue signing you up. Please check your email address, and try again.