Start small when learning a new technique. Decoupage is a great way to revitalize an old piece, and a small project is quick and easy!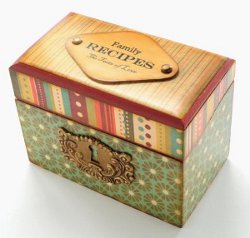 Materials:
Wood recipe box
Mod Podge Matte
FolkArt Acrylic Paint – Alizarin Crimson
Scrapbook paper, 4 sheets of coordinating – I used We R Memory Keepers Grandma's Kitchen Collection
Antique keyhole embellishment
Brass brads, 2
Chipboard/thin cardboard from a cereal box
1/8 inch hole punch
Tim Holtz Distress Ink – Vintage Photo
Cosmetic wedge
Computer and printer
Workable Fixatif Spray
Sandpaper
Hot glue gun
Mod Podge Clear Acrylic Sealer – Matte (Optional)
Instructions:
Remove hardware from recipe box; set aside.

Paint outside lid edges, inside, and inside edges with Alizarin Crimson. Allow to dry.

Measure and cut paper to fit around and completely cover the outside base of the box; set aside.

Measure and cut paper to fit around the rim of the lid, 1/8 inch shorter than the lid so you have a border revealing the painted section; set aside.

Measure and cut a piece of paper to fit the top of the lid allowing a ¼ inch border to reveal some of the painted section.

Use the cosmetic wedge and dab onto the distress ink pad, then distress the edges of the papers. Adhere all papers using Mod Podge while smoothing out any air bubbles with your hands. Allow to dry.

Continue distressing all corners and edges as before until you achieve a desired aged look.

Apply 2 coats of Mod Podge to entire outside of the box. When applying the coats, go in one direction then the other and let dry between coats. Allow to dry.

Cut out a rounded diamond shape using chip board or cereal box; set aside.

Use a computer to generate a message for the top of your box (for example: Family Recipes The Taste of Love) Once you have achieved the desired size, print it out on a piece of coordinating scrapbook paper and spray with a coat of workable fixatif (to prevent bleeding). Allow to dry.

Use Mod Podge to decoupage your message to the diamond cutout. Allow to dry then sand edges smooth (sand downward in one direction to prevent the paper from lifting or tearing), distress edges as before then seal with a coat of Mod Podge. Set aside to dry.

Use hole punch to punch holes in diamond shaped tag; add brads.

Attach tag to top and keyhole embellishment to the front of recipe box as shown.

Replace hardware and allow to dry for 24 hours before using.

If desired, seal recipe box with Mod Podge Clear Acrylic Sealer.

Find this and 11 other great decoupage crafts in our FREE "Quick and Easy Decoupage" eBook.
Your Recently Viewed Projects