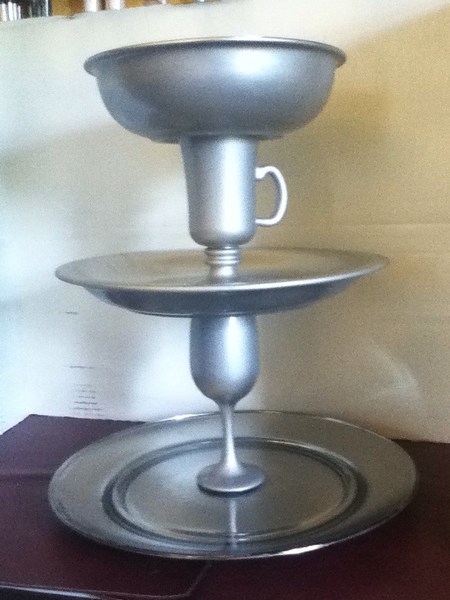 Designer Barb Macaskill needed something to put her craft spray inks on that was pretty, yet functional. She rummaged around her basement and found a bunch of old dishware that wasn't being used anymore. She was surfing the net and found some lazy susan turntables and decided that would be a great way to store her sprays. This is a fun and simple project that anyone can do, and it could also be used to store makeup, spices, or you could even use it to hold desserts and food for a little party. No matter how you use it, you're sure to get great use out of this awesome DIY Lazy Susan.
Primary TechniquePainting

Materials:
1 large clear glass plate
1 medium size glass dinner plate
1 medium size glass serving bowl
1 4" lazy susan turntable
1 clear glass coffee mug with base
1 large wine glass
1 tube E6000 adhesive
1 can Krylon Looking Glass
3 cans Krylon Silver Metallic
1 can Krylon Clear Acrylic Coating
Instructions:
Clean all pieces using rubbing alcohol to make sure there is nothing on them. Let dry thoroughly. Spray bottom of clear glass plate with Krylon Looking Glass. Do 4-6 light coats to get best results. Wait 15-30 minutes between coats.

Spray both sides of dinner plate and bowl using Krylon Metallic Silver. Again, do 4-6 light coats for best results. Spray coffee mug and wine glass with Krylon Metallic Silver using 4-6 coats for best results.

After all coats are applied spray everything with Krylon Clear Acrylic Coating. Use 2-3 light coats for best results. I left everything overnight to ensure that they were completely dry.

Using a ruler, find the center of each plate and bowl on both sides. Using E6000 adhesive, adhere the lazy susan turntable to back of clear glass plate. Turn both glasses upside down and put a glob of E6000 to cover bottom of base and apply wine glass base to bottom of dinner plate and the base of coffee mug to base of bowl making sure they are centered. Let dry 4-6 hours.

Put a ring of E6000 around lip of wine glass and adhere to front of clear glass plate. Apply a ring off E6000 to lip of coffee mug and adhere to front of dinner plate. Let dry 4-6 hours then fill them up with whatever you want to.
Your Recently Viewed Projects