Who doesn't love vintage button crafts? Make a Vintage Button Bracelet from Candace Jedrowicz from your grandma's collection of old odds and ends. This is trendy and cute.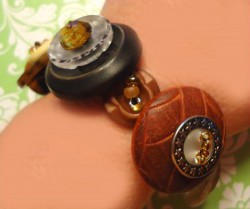 Materials:
Buttons
Bead embroidery thread
Beading needle
A selection of accent beads
Elastic ribbon
Instructions:
I started with several large and small buttons and paired them up.



I began sewing the buttons onto the end of the ribbon, so that I could hide the seam. I spaced the buttons so that the edges touched.

I sewed the buttons on just like I would if I were sewing them on a shirt, making several passes with the thread.

Half of the top buttons are two-holed. This is where I used the accent beads - on top of those buttons so the thread would be hidden.



I alternated the beaded buttons with with the others.

I measured the ribbon on my wrist and cut off the excess leaving a tab to overlap for secure sewing.



When I sewed the ends of the ribbon together and put the bracelet on and realized that the curve of the ribbon opened spaces between the buttons, so I chose some smaller buttons to fill in.


For a video tutorial of this project, check out How to Make a Vintage Button Bracelet Video.
Your Recently Viewed Projects