Crafty Necklace and Earrings
Who knew that the classic Shrinky Dinks we made as kids could actually be used as jewelry making ideas? Believe it or not, this Crafty Necklace and Earrings are both made with that same shrinkable film. Not only can you use it to make a cute necklace, but you can also make matching earrings just as easily. All it takes is a few simple materials, and voila! No more trips to the jewelry store for you (unless you want to, of course). Have fun, get creative, and learn how to make earrings.
Materials:
Martha Stewart Crafts ® Fair Isle Dots Adhesive Stencils
Mod Podge ® Dimensional Magic, 2 oz.
Shrinkable craft film (like Shrinky Dinks Shrinkable Plastic in Almond)
Paint markers (like Sakura Permapaque)
2 earring backs
1 large jump ring
1 silver chain
Circle cutter or other circular items to make a template
3/4" hole punch
Jewel glue
Scissors
Pencil
Instructions:
You will first need to cut your shrinkable plastic into three circles – one larger for the necklace and two smaller for the earrings. To do this, either use a circle cutter or find household items to trace. I used a funnel for the necklace and a jar lid for the earrings. Put the items on the surface of the shrinkable plastic and trace. Keep in mind that your plastic will shrink to 1/3 of its current size.

Carefully cut the plastic using your scissors. Cut slowly.

Choose your adhesive stencils and place onto the plastic. Use your paint markers to color in the stencil designs. Pull up the stencil and allow the paint marker to dry. Don't touch the paint for several minutes or you will smear it. Tip: Your stencils may have a little residual marker ink on them, but they are perfectly fine use again for painting!

Repeat on both the large circle and the two smaller circles until you have the design that you like.

Punch a hole in the necklace with the hole punch.

Bake the shrinkable plastic according to the manufacturer's instructions. Let cool.

Apply Dimensional Magic over the top of the necklace and earring circles. Let dry overnight.

Apply a second coat of Dimensional Magic (if desired) and let dry overnight.

Attach the jump ring and the chain to the necklace. Attach the earring backs to the earring circles using jewel glue.

Let dry for 24 hours before gifting!
---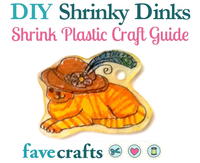 Love shrink plastic crafts? Find more gorgeous ideas for what to make with shrink plastic in DIY Shrinky Dinks: A Shrink Plastic Craft Guide.
---
Your Recently Viewed Projects
Join our community of 5 million crafters!
Get free craft projects, exclusive partner offers, and more.
Thank You for Signing Up!
There was an issue signing you up. Please check your email address, and try again.