Sparkling Polka Dot Halloween Topiary
This Sparkling Polka Dot Halloween Topiary from Krylon is the perfect centerpiece for your Halloween party. Homemade Halloween crafts are just the thing to get you in the spirit for a fun night of trick-or-treating!
See this project and more glittery crafts in our free eBook, How to Create 14 Sparkly Craft Projects Using Krylon Glitter Blast.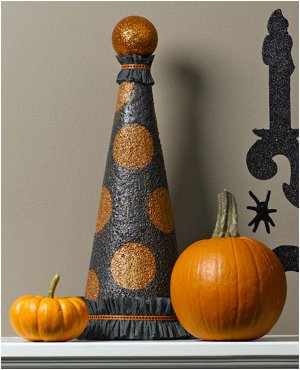 Materials:
Craft foam: 12" cone (or other sizes of your choice); 2" ball; scrap of foam
Krylon® Gitter Blast™ Glitter Paint: Starry Night, Orange Burst
Circle stickers, 2" OR contact paper
Crepe paper roll, black
Ribbon, 3/8" wide
Newspaper
Low temp glue gun and glue sticks
Toothpick
Scissors
Rubber gloves
Sewing machine OR needle and thread
Instructions:
Before you start, carefully read label on the can of Glitter Blast™. Cover work area with newspapers. Spray cone with Orange Burst Glitter Blast™. Let dry. (Glitter Blast™ darkens as it dries, so be careful to not overspray. If you overspray, the finish can run.)

Insert toothpick into 2" ball. Spray with Orange Burst Glitter Blast™. Insert toothpick into scrap of foam and let dry.

Make your polka-dot masks. If using contact paper, cut out 2" circles. Remove backing from circle stickers or contact paper circles and arrange randomly on painted cone. Pay special attention to the edges, pressing them down firmly so the paint doesn't bleed under the masks.



Carefully peel away your stickers or masks to reveal polka dots.



Spray entire cone with Starry Night Glitter Blast™. Let dry. Carefully remove stickers.

Set sewing machine on longest basting stitch. Stich down center of crepe paper; crepe paper will ruffle as you stitch. Glue ruffled strip around top and bottom of cone. Or, using a needle and thread, hand stitch down center of crepe paper strip, gently pulling to create a ruffle as you go.

Glue ribbon around middle of crepe paper ruffle.

Glue orange glittered ball to top of cone.
Your Recently Viewed Projects