Giant Bow Halloween Wreath
Make flowers from fabric with this tutorial for a giant bow Halloween wreath from Shelley Detton. Yes, it's a bold decor statement, but what about Halloween isn't? This Giant Bow Halloween Wreath is a wonderful decoration to put on your door for the trick-or-treaters to admire. With a few fabric flower patterns, this gorgeous wreath will add so much dimension to your porch. Make flowers from fabric and make smiles from greeting your guests with this wreath.
Materials:
1 fake gerbera daisy flower, with the stem pulled off
1 strip of fabric, 3" x 42"ish, which is cut with pinking shears on one edge
3/4" ribbon cut to 6" lengths (cut 6)
3/8" ribbon cut to 4 1/2" lengths (cut 3)
3/8" ribbon cut to 7" lengths (cut 3)
1 fairly large button (fabric-covered or regular)
needle and thread
hot glue gun
Instructions:
If you have a sewing machine, use a large basting stitch and sew all along the unpinked edge of fabric. If you don't have a sewing machine, use a needle and thread and sew a gathering stitch along unpinked edge. In either case, pull thread and scrunch up fabric to create the gathers (for machine basting, pull either the bobbin or the top thread, not both at the same time). Put the ends of fabric together to create a circle. Stitch ends together so that the raw edges are to the backside of the fabric. Distribute gathers evenly around circle. Set aside.



Turn flower upside down. Hot-glue one end of each 3/4" ribbon to backside of flower, close to stem. Try to glue the ribbon in equal sections, making sure the ribbons opposite eachother create a straight line (they should look like 3 long ribbons instead of 6 short ones if they're properly lined up).



To create the V-tipped loops, take a ribbon and, without flipping it over, move the outer end to the left and on top of the end which is already glued to the center of the flower. It's hard to tell with this ribbon, but if your ribbon is printed on one side only, both ends of the ribbon would be facing printed-side-down at this point (so that the printed side would be viewed properly when the flower is turned over). It may take some practice, but with a little fiddling you'll be able to consistently get a V-tipped loop when you bring the ends of the ribbon together.



Hot-glue the 3 long ribbon strips in the "gaps" between the V-tipped loops. Glue the ribbon right over the center stem area.



Hot-glue the fabric circle over the top of the ribbon, making sure the good side of fabric is face down so it will be viewed properly when the flower is turned over. Align fabric so that it is centered around center stem area. Set aside to let glue harden thoroughly.



Meanwhile, create loops with the ribbon which is 4 1/2" in length. Overlap edges slightly, center the overlap on the underside of loop, and push needle up through bottom of loop. String all three loops in same manner.



Arrange loops in equally spaced segments and secure with a few stitches of thread as shown. The stitches do not have to be pretty - they will be hidden by the button.



Sew button on, pushing needle through all the ribbon layers in the center to secure entire bow.



Flip over flower bow and hot-glue button/ribbons into center of flower. Trim the raw ends of the ribbon in the back (the white ribbon in this case) as desired and seal with a stop-fray product to maintain a clean cut edge. And that's it!


---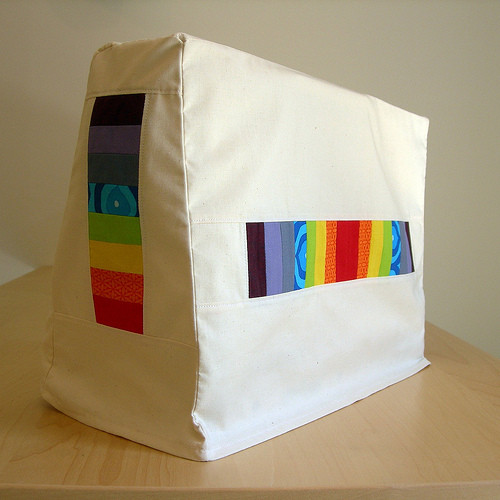 When you're done creating this wreath, make a little something to hide that machine in style with these 7 Free Sewing Patterns for Machine Covers.
---
Your Recently Viewed Projects