Spring Paper Tube Sachet
Great to use as a trinket box or a scented sachet, this Spring Paper Tube Sachet from Maria Chatzi is a fun and easy way to put those empty toilet paper rolls to use. Drop one in your drawer, under the seat of your car, or in your closet for a quick and easy fragrant boost.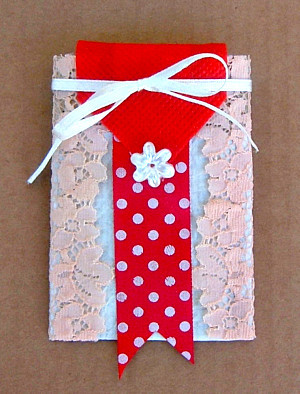 Materials:
Toilet paper tube
Piece of paper, color: white, dimensions: 5.52 inches x 5.52 inches
Flowery lace ribbon, color: white, length: twice the height of your paper tube , width: 1.18 inches (a bit wider would also look nice)
Stapler
Glue
Scissors
Satin dotted ribbon, color: red, length: 4.75 inches, width: 1 inch
Mat ribbon, color: red, length: 3.55 inches , width: 2 inches
Satin ribbon, color: white, length: 16 inches , preferred width: 0.20 inches
Small white flower , made of any material (mine is a plastic one with a satin finish)
Instructions:
Press your palm onto the paper tube, to flatten it. Then use your stapler to staple all along one end. This will be the bottom of your sachet. Leave the upper end open, as it is.

Cover 3/4 of your sachet with your white paper, starting from the bottom (cover both front and back side). Trim any paper in excess. Wait till the glue has dried.

Now, take your flowery lace ribbon, cut it in half and glue the two halves along the two sides of the sachet and trim it. Again, wait for the glue to dry before you continue with the project.



The lace ribbon design should mostly be in the front side but a little bit of the lace has to be wrapped and glued around the side edges to the back of your sachet too.



To continue, turn your sachet to its back side. Take your scissors and cut a pointed end to your wider red ribbon. Glue the ribbon on the back side of the sachet as shown in photo Nr. 2, and, on top of that, glue the white satin ribbon along the upper (open) end of your sachet. Wait for the glue to harden.

Now, turn your sachet to its front side again. After that, turn it over to its back side and glue one end of the dotted ribbon onto the wide red mat ribbon. Wait for the glue to dry completely. Cut a dove-tail end finish for the other dotted ribbon end.



Then, flip the ribbon over to the front side. Glue the white flower onto the pointed end of the wider red ribbon and your Spring paper tube sachet is ready.

After you place your charm pendant gift or your keepsake trinket in the sachet, bring the ends of the white satin ribbon to the front too and make a bow over your red ribbons.
Tip:
Take into consideration that it takes more time for the glue to harden if the flower is made of any other material except light paper or light fabric.
Your Recently Viewed Projects
Join our community of 5 million crafters!
Get free craft projects, exclusive partner offers, and more.
Thank You for Signing Up!
There was an issue signing you up. Please check your email address, and try again.