Plastic Jug Light Fixture
Would you ever guess that this DIY light fixture is made from a recycled plastic bottle? The Plastic Jug Light Fixture from Tiffany Threadgould is a neat and eco-friendly project that will really impress your guests. So cheap and so chic! It's featured in 14 Laundry Detergent Bottle Crafts.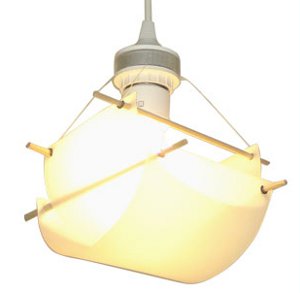 Materials:
2 sets of chopsticks
empty gallon jug of vinegar or windshield wiper fluid
fishing line
8 #47 o-rings or small black rubberbands
hanging lamp (like Hemma from Ikea)
scissors
ruler
hole punch
tack
non-permanent marker

Instructions:
Use your marker to make two lines around the plastic container 1/2 inch from the bottom and 5 1/2 inches from the bottom. Then mark two vertical lines directly across from each other.

To help pierce your container, use a tack to poke a hole outside the area you marked. Then slip your scissors in through that hole. Cut along the lines you marked. Then wash off any marker.

Unscrew the bottom disk from the hanging lamp and trace around a scrap from the plastic bottle leftovers. This piece will be sandwiched between the lamp and the screw-on disk. Your lamp will hang from this piece. Cut along the lines you marked, making the center diameter slightly larger than the marked line. Set this piece for step 7.

Punch a hole in each corner of the plastic panels from step 2.

Take one panel and slide a pair of chopsticks through the holes. Secure the chopsticks in place by placing rubberbands on each of the ends.

Cup the second piece of plastic around the bottom of the first; then thread the remaining two chopsticks into the holes of this plastic panel as you did on the other in step 5. Make sure this piece hangs crosswise from the first. Secure in place with rubberbands.

Cut four 11-inch pieces of fishing line. Tie one piece to each chopstick end on the top panel. Then tie the other ends to the "donut" shape you cut in step 3.

Slide the "donut" onto the light fixture and screw the light together. Now you're ready to plug in your new creation. This lamp will shed some new light on scrap materials headed for the landfill.



Up Next:
Your Recently Viewed Projects
Join our community of 5 million crafters!
Get free craft projects, exclusive partner offers, and more.
Thank You for Signing Up!
There was an issue signing you up. Please check your email address, and try again.