"42 Ways to Recycle" eBook
42 Ways to Recycle free eBook from FaveCrafts.com
Reduce, reuse, recycle. These are famous words that we've all heard before. Before throwing out all your trash take a second look at what you might be able to save. There are tons of crafts you can create with your recyclables. Look in the Recycle eBook to find out what you can create. Once you're done licking the yogurt out of the container don't throw it out, reuse it. You can be very creative. We have provided 42 ways to reuse materials to create unique and amazing crafts you never would have thought of. You can create wine coasters out of glass, you can make tins out of greeting cards and can critters out of metal. Use your imagination, save the earth and recycle.
Recycle the items you can because in the long run it'll help us all out. We have discovered some fancy ways to make reusable crafts. Just wash out your containers or whatever items you may be using and go at it. Some of these crafts will blow your mind away. Not only are you gaining something useful or decorative, but you're also helping to save the environment! Recycle those materials and see what you can create!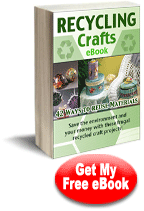 Get your FREE Recycle eBook here! [PDF]
Making your own paper is a fun idea that you can use for so many different craft projects. Recycling your paper scraps also creates less waste and is great for the environment.
Choose your very favorite recycle to make, or make them all. Check out this section of the free 42 Recycle Crafts eBook to find inspiration for decorative recycling projects you can use however you'd like.
Comic-Wrapped Decorative Balls, pg. 11: This is a fun and easy project that even kids can do. Recycle your favorite comic strip from the newspaper or a comic book and decoupage them on to STYROFOAM™ Brand Foam balls. Kids will love picking out their own design and displaying these in their rooms.
Gift Tin, pg. 17: We are creating a gift tin that is perfect for giving a brooch, earrings or a bracelet. It is quick to make and can incorporate recycled cards, papers and fabric.
Recycled Christmas Card, pg. 20: Have a "green" Christmas this year with this inexpensive and fun way to recycle old Christmas Cards into new!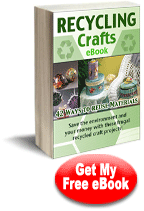 Get your FREE Recycle eBook here! [PDF]
Don't Miss Our Other eBooks!
Be sure to check out our entire collection of eBooks. You'll find titles such as:
With a little creativity, tin cans and other metal recyclables become surprisingly elegant decorations instead of trash. Save money on expensive decor with these fun projects.
Check out this section to learn how to make tin can critters you can hang and treasure tins you can put on your table. No matter what time of year you create and show off your handmade recycle crafts, you're sure to love their beautiful appearance.
Tin Can Critters, pg. 34: Earth day, tin cans, recycling ... here's some fun projects to make with the kids! Use a kit for best results, or use household items and the following directions.
Pearly Treasure Tins, pg. 36: Recycle old metal tins with spray paint, trims, and decoupage images to create pretty containers for giving holiday treats.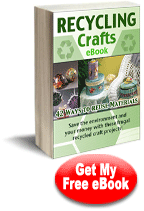 Get your FREE Recycle eBook here! [PDF]
Get even the littlest hands involved with these environmentally-friendly recycling projects. Recycled plastic bottle caps and other plastic recyclables make fun miniframes and more.
Check out this section for ways you can put your creativity and love for the environment to use. You won't be able to wait to show off the recycle crafts you can create for your house. Round up all of your plastic recyclables, and get started with these beautiful recycle projects.
Cat Bottle Bank, pg. 40: This green crafting project shows you how to recycle a 1-liter bottle into a purrfect cat bank. This is a great way to teach kids about recycling.
Plastic Bottle Lid Art, pg. 42: Even plastic bottle lids can be recycled for fantastic art projects like this one from Heidi Borchers of Inspired at Home. Turn the lids into a contemporary art canvas that's sophisticated but easy enough for kids to do!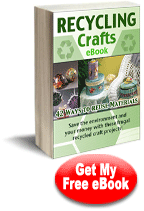 Download 42 Ways to Recycle Now!

These wonderful projects come to us from bloggers all over the place. With the help of glass recyclables, recycle an old wine bottle, perfume bottle or other glass bottle into a decorative container and more. These techniques makes the bottle look like professional glass decor with no glasswork experience necessary. Use these recycle projects as a vase or a liquid container for oil, vinegar, or other.
Take a peek at this section to find inspiration for glass recycle crafts. The tutorials you'll find employ a variety of crafting skills and styles. Pick the projects that use your favorite craft skill or challenge yourself to try something new. No matter which recycle projects you make, they're sure to fill your home with the amazing spirit of the love of the environment.
Beaded Bottle, pg. 61: Recycle a bottle and adorn it with beads for a great decorating idea.
Jewel Glass Bottles, pg. 64: Use a special glass paint to create jeweltone glass bottles. A trio of these bottles will look fantastic on a window sill or table near the window. The sun will shine and sparkle through.
...and more!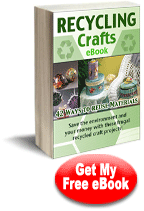 Download 42 Ways to Recycle Now!
Find our latest eBooks here.
Find our complete list of published eBooks here.
For tips on downloading our eBooks, see the help document here.
As you can see, recycle crafts come in a variety of forms and can be made from a variety of materials. You can put recycling projects just about anywhere inside or outside your home, so let your creativity shine and see what ideas you come up with. From crafts made out of paper to crafts made out of glass, there's something for everyone when it comes to recycle crafts.
With your free copy of our 42 Ways to Recycle eBook, you can also subscribe to our Quick and Crafty newsletter to become part of the FaveCrafts community. In subscribing to the newsletter, you will receive:
Five weekly emails with free crafting patterns, tips, collection pages, videos and more plus a weekly wrap-up.
Chances to win books and products from our weekly giveaways and contests.
New FREE patterns and eBooks made available to you throughout the year.
Access to our free pattern library full of over 1,000 of free crafting patterns.
The opportunity to share ideas and help others in the crafting community.
Give your home the green touch you desire with any of these free recycle craft ideas. Try one, try them all, the projects in our Ways to Recycle eBook are great for crafters of all ages and expertise. Download your free copy of our 42 Ways to Recycle eBook today!
Your Recently Viewed Projects
Join our community of 5 million crafters!
Get free craft projects, exclusive partner offers, and more.
Thank You for Signing Up!
There was an issue signing you up. Please check your email address, and try again.