Easter Table Set
Create a fun Easter table set featuring an Easter egg table runner, carrot place mats and Easter chick napkin rings. You can pick and choose your favorites or make all three from this Easter craft set from I Love to Create.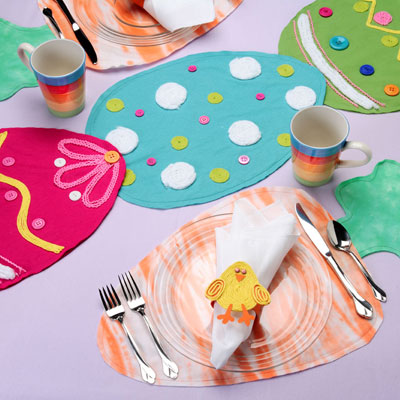 Materials:
Tulip® One-Step Fashion Dye™- Green, Orange
Aleene's® OK To Wash-It®
Aleene's® Crystal Clear Tacky Spray™
White chalk
Spray bottle
Plastic trash bag
Scratch paper
T-shirts; White, Pink, Lime, Turquoise
Cardstock; Yellow, Orange
White fabric
Newspaper
Yarn; Pink, White, Lime, Yellow
Paper towels – two rolls
Ruler
Pencil
Sewing machine with matching thread
Scissors
Plastic wrap
Sewing pins
Buttons; Multi-colored Button Value Pack

Instructions:
Placemats:
Cover work surface with trash bag. Cover two large rolls of paper towels with plastic wrap.

Cut one of the pieces of white fabric in half crosswise. Wet and wring dry. Lay covered paper towel rolls on their sides. To create a shibouri technique with fabric, start by draping fabric over roll then scrunch fabric tightly across roll, making sure excess fabric is also scrunched following package technique instructions. Repeat with other section of fabric on second paper towel roll.

Wearing gloves from box, fill Orange dye bottle with water to line indicated, replace lid then shake until dye is thoroughly dissolved. Pour into spray bottle. Spray dye evenly over scrunched fabric.

Wet white T-shirt and wring dry or place in washing machine on "spin" cycle. Place on trash bag and crumple following instruction sheet. Fill Green dye bottle with water to line indicated and shake until thoroughly mixed. Squeeze dye onto shirt, squeezing and turning fabric.

Let set for 4-6 hours then wash each separately in washer with small amount of laundry soap. Dry in dryer then iron smooth.

Cut out carrot top pattern. Keeping shirt double thickness, pin pattern to shirt then cut out. Repeat for other top. Use sewing machine with green thread to sew around entire design using a ¼" seam.

Layer dyed fabrics onto other swatch of white fabric. Enlarge carrot pattern to size indicated then cut out. Pin onto top layer of fabric, with design going crosswise, and cut out, repeating process for other mat.

Insert top between fabrics at wide end of carrot where shown and pin in place. Using orange thread, sew around entire carrot with a ¼" seam.
Napkin Rings:
Cut out patterns. Use pencil to lightly trace patterns onto color of cardstock indicated then cut out amount noted.

Cover work surface with newspaper. Place body right side up on paper then lightly spray with Aleene's® Crystal Clear Tacky Spray™.

Move to scratch paper. Press end of yellow yarn onto edge then press along entire outside edge. Continue tightly swirling yarn to center. Repeat step for other body.

Spray top of wing with Tacky Spray™. Press yellow yarn along edge then swirl loosely to center allowing orange paper to show through. Repeat with other wings.

Place wings, legs, and beak right side down on scratch paper. Lightly spray with Tacky Spray™, holding with pencil if needed. Press tacky-side-down in place on body where shown. Spray backs of two small buttons from package with Tacky Spray™ and press in place on chick above beak for eyes. Repeat for other chick.

To create ring for napkin, measure and cut out a 9" x ½" strip of orange cardstock. At one end of strip, snip in to center about 1" from edge. Repeat with other end and opposite side of strip. Insert snipped ends together, forming a ring. Spray flat portion of top section with Tacky Spray™ then press onto back of chick.

Insert napkin.
Runner:
Enlarge egg pattern to size indicated then cut out. Pin onto double thickness of lime, pink and turquoise T-shirts and cut out. Using matching thread, sew around each egg using a ¼" seam.

Use chalk to lightly draw designs on eggs as shown or create your own. Working with one egg and one design at a time, apply a thin bead of Aleene's® OK To Wash-It™ to design then press yarn in place. Refer to photo. Add small dots of Fabric Fusion™ in places indicated and press buttons into glue. Let dry.

Glue ends of eggs together with OK To Wash-It™ to form runner.
Your Recently Viewed Projects
Join our community of 5 million crafters!
Get free craft projects, exclusive partner offers, and more.
Thank You for Signing Up!
There was an issue signing you up. Please check your email address, and try again.