Easter Egg Cross Stitch Ornament
Make an Easter egg ornament stitched with spring color designs. Tiny pink seed beads and a braided trim with a touch of silver add interesting texture to this Easter egg. Hang from an indoor tree, door knobs or chair backs this Easter.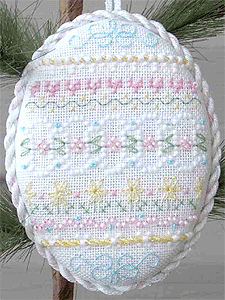 Materials:
Kreinik Very Fine (#4) Braid 091 Star Yellow
Kreinik Fine (#8) Braid 094 Star Blue
Kreinik Cord 001C Silver
Kreinik 1/8" Ribbon 195 Sunburst
DMC embroidery floss in white, 989, 3716
Mill Hill Glass Seed Beads #00145 Pink
Kreinik Custom Corder for making trims
3-inch oval Stik N Puffs for finishing
28-ct Antique White Alma Cloth from Wichelt, two 8" x 8" cuts

Download the stitch chart here. (pdf)

Instructions:
Each square on the chart equals two fabric threads. Work all stitches as per chart/color key. When couching flourishes of Star Blue, work twin scrolls first, then couch center scroll over the top.

To make the laid threads for couching the horizontal bands, twist six 12-inch lengths of Very Fine (#4) Braid 091 Star Yellow using the Kreinik Custom Corder. Repeat twice to make two lengths, following manufacturer's instructions that come with the corder. The outer trim is also made using this tool, by twisting together five 36-inch lengths of Kreinik 1/8" Ribbon 195 Sunburst.

When stitching and trim are complete, use pattern and instructions provided with Stik N Puffs to finish ornament. Hanger is an 8-inch length of 1/8" Ribbon 195 Sunburst. Ornament is backed with the remaining Stik N Puff and unworked Alma Cloth.
Your Recently Viewed Projects