The thick textured scarf is a great free crochet pattern for a beginning crocheter. This scarf is easy to make and its thickness will keep you warm all winter long.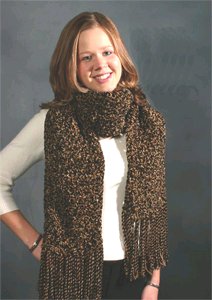 Materials:
Size K-10.5 crochet hook or size to reach gauge below.
Caron Jewel Box™ 12.5 oz. Tigereye.

Instructions:
Gauge:
3 shells and 5 rows in pat = 3 in. TAKE TIME TO CHECK GAUGE.
Stitches Used:
Chain st (ch). Slip St (sl st). Single Crochet (sc). Double Crochet (hdc).
Shell: *(sc, 2 dc) in same st *.
Scarf:
Ch 24.

Row 1 (right side): 2 dc in 3rd ch from hook, skip next 2 ch, * shell in next ch, skip next 2 ch *, rep from * to * across to within last ch, sc in last ch (7 shells), turn.

Row 2: Ch 1, shell in first sc, * skip next 2 dc, shell in next sc *, rep form * to * across to within last shell, skip next 2 dc, shell in last sc (7 shells), turn. Rep Row 2 until scarf measure 58 in. or to desired length. Fasten off.
Finishing:
Side Edging: With right side facing, join yarn in first row-end st on bottom right-hand corner, ch 1, sc evenly across side edge to next corner. Fasten off. rep side edging across opposite side edge.

Fringe: Cut yarn into 20 in. lengths. Using 2 lengths for each fringe, single knot one fringe in each st across each short edge of scarf. Trim ends even.
Washing Instructions:
Hand washing and drying: Turn inside out and wash gently in warm water using a mild detergent. Gently rinse well in cold water. Lay flat on a towel and roll in towel to remove excess water. DO NOT WRING, STRETCH OR HANG TO DRY.
Handling Instructions:
When using Jewel Box, be sure to tie a knot at the beginning of each skein and at both yarn ends when joining. A small amount of shedding can be expected when using this yarn under normal conditions.
Your Recently Viewed Projects