34 Free Crochet Sweater Patterns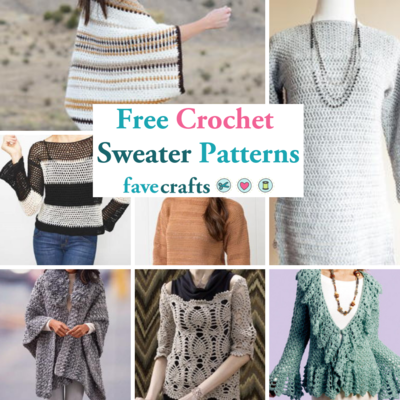 When the weather cools down, nothing says comfort like a warm sweater. Unfortunately, winter cover-ups can get expensive. This year, save some money and crochet a sweater of your own. In fact, there are so many easy crochet sweater patterns for you to enjoy - you can make a few and never get bored.

Sweater crochet patterns don't have to look the same. Make a hoodie, shawl or wrap to stay warm and toasty during the cold months of winter. Use soft yarns, understated colors and pretty designs for your sweater so you can wear your handmade creation with any outfit. Whether you're new to crochet or just want to try something different, you can't go wrong with sweater patterns, free crochet projects and other handmade ideas.

Crochet sweaters also make great gifts during the holiday season. Find an easy crochet sweater pattern, free project or DIY idea and get inspired for Christmas. Add elements to the sweater that reflect the recipients' personality so they'll wear the piece forever.
Table of Contents
Have you ever crocheted a sweater? What advice do you have for beginners?
Your Recently Viewed Projects