31 Free Amigurumi Crochet Patterns
Find easy amigurumi patterns and slightly more challenging crochet patterns in this collection.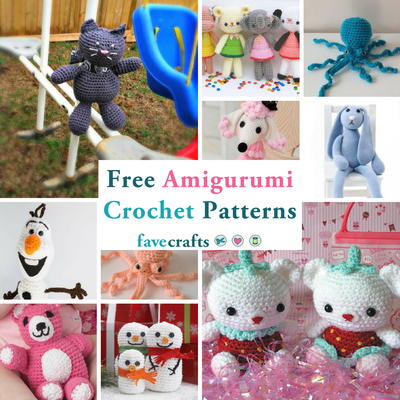 Amigurumi…hard to say, easy to do!

Crochet amigurumi is the Japanese technique of crochet that literally combines the word "ami", meaning to crochet or knit, with the word "nuigurumi", meaning stuffed animal or doll. With these free amigurumi crochet patterns, you'll find yourself falling in love with this craze in no time!

The more popular patterns are animals, so we've included lots of patterns that are animal-themed. Naturally babies and young children love stuffed animals, so free crochet animal patterns are great when it comes to making gifts for little ones. But when it comes down to it, amigurumi crochet toys are perfect for kids of all ages. And it's never too early to be thinking about Christmas, so we were sure to include lots of free amigurumi crochet patterns for the holidays!

So you've seen how cute amigurumi patterns can be and I bet you're wondering how to crochet amigurumi. If you can crochet in rounds, you can make any of these amigurumi animals. Many of them are easy amigurumi patterns! Don't be surprised if you get hooked.

BONUS! Don't forget to sign up for the FaveCrafts newsletter, Quick and Crafty, for daily crafts and tips delivered straight to your inbox.
Table of Contents
Animal Amigurumi Patterns
These plushie patterns pay tribute to the animal kingdom and include a wide range of furry, slimy, and fuzzy friends to get you started. Enjoy making these wonderful free crochet patterns today. Before you know it, your home will be full of excellent crochet toys that you can enjoy for yourself or give away to your kids and grandkids. Don't be afraid to branch out enjoy these wild and wonderful easy amigurumi patterns.
Amigurumi for Baby
Check out these free crochet toy patterns that will make the little ones in your life giggle with joy. Crochet baby toys like these are a lovely way to welcome a new baby into the world or celebrate your grandkid's first birthday. From bunnies to monkeys to dolls, there's an amigurumi animal pattern for everyone here. Enjoy these amazing crochet animal pattern ideas, and don't be surprised if you can't stop making them. 
Christmas Amigurumi Crochet Patterns
There's nothing like a snowstorm to get you in the creative spirit. The next time you're snowed in for a while, try one of these free Christmas crochet patterns. You could make them as stocking stuffers or create your very own DIY Christmas decor. The possibilities are endless when you pursue one of these amigurumi patterns. Don't delay, because it's never too early to get started on Christmas crafts. Whatever time of year it is right now, you'll be excited to bring them out every year during the holidays. 
What amigurumi pattern would you love to try that you haven't yet?
Your Recently Viewed Projects