Show that you're a music lover and you love you rock. Make a kite from I Love to Create that can fly high and show everyone that you're into music.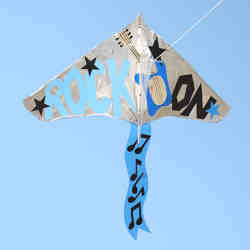 Materials:
Aleene's® Fast Grab™ Tacky Spray®
Assorted tissue paper, cardstock paper, silver Mylar tissue
Plastic tablecloth
Bamboo skewers or chopsticks
Kites
Brads – ¼" – colors to match
Scissors
Pushpins
Paper towels
Pencil
Steps:
Cover work surface with plastic tablecloth.

Place kite on work surface. Fold plastic center divider over to one side then cover plastic divider and entire side of kite it is laying on with paper towels.

The design on kite needs to be covered with silver mylar. Spray uncovered side with an even coat of Fast Grab™ Tacky Spray™ following label instructions. Place a sheet of mylar, with straight edge along center spine of kite, over sprayed surface and smooth with fingers. Cut smaller sections of mylar to fit remainder of side, making sure entire surface is covered.

Remove paper towels from covered side, flip over plastic center section and cover plastic center and tissue paper side with paper towels. Repeat step to cover remaining side with tissue.

Carefully peel kite from tablecloth then use scissors to trim excess tissue paper from around kite.

Trace patterns on color paper indicated or desired and cut out. Place several layers of newspaper on work surface. Place smaller cutouts on newspaper and hold in place with skewer to keep from flying away. Spray piece with adhesive then press in place.

Strings on guitar are created with Black Slick 3D Fashion Paint™. Start flow of paint on paper towel using even pressure on bottle for a smooth line. Detail guitar as shown. Let one side dry, flip over plastic center section then finish other side. Let dry.

Trace, cut out and glue tail sections together with spray, then spray and press music notes in place.

Place tail where shown, overlapping about 2" underneath body of kite. Use pushpin to make hole through both layers then insert brad into hole, pressing tines apart to hold in place. Attach tail to kite with two brads on each side of spine.
Your Recently Viewed Projects