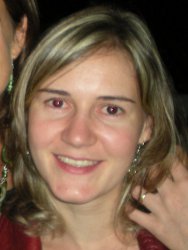 My name is Cecilia, I'm an Analyst Programmer, crafter, passionate about sewing, designer, wife, mother...
I love crafting since I remember, as a child I used to spend a lot of time designing, painting, making crafts in general. I grew up watching my mother sewing and as a teenager I used to design my own dresses and she used to sew them for me
As a grown up I graduated and started to work as an Analyst Programmer which left me almost no time for crafting, it was only after I knew I was pregnant that I started to craft again, making stuff to decorate my baby bedroom more than anything. A few months after my little girl was born I started to design and sew clothes for her.
I found a real passion on crafting specially on designing and sewing clothes. So I started a blog (www.soteitei.blogspot.com) as a journal of my projects and a way to share them with other people. After a while I decided to open my own Etsy shop to sell sewing patterns.
Currently my days go between programming, running my Etsy shop, crafting, designing, sewing, being a mother, a wife, a blogger, and learning from all those things...


Projects on FaveCrafts:
Terry Cloth Baby Bib with Sleeves
Round Fabric Christmas Ornaments
Soft Book Tutorial
Do It Yourself Belt Tutorial
Party Hat Tutorial
Felt Hamburger Tutorial
Multiple Use Fabric Flowers
Fuzzy Bunny Baby Blanket
Kooky Stuffed Owl
Links:
Your Recently Viewed Projects