Recycled Bedspring and Spool Tree
This Christmas, make some Earth-friendly crafts that bring new meaning spirit of the holiday season. A Recycled Bedspring and Spool Tree from Cyndee Kromminga allows you to combine vintage themes and recycled items into one gorgeous tabletop tree design.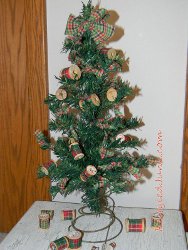 Materials:
24-inch tabletop Christmas tree
Wire cutters
Bed spring
12 wooden thread spools
Measuring tape
Homespun Christmas fabric
Scissors
Craft glue
Craft wire
Instructions:
Remove the legs from a 24-inch tabletop Christmas tree. Cut off the trunk just below the bottom tier of branches using wire cutters.

Insert the bottom of the tree into the top of an old bed spring. The bottom branches will make the bottom end of the trunk thicker. Push down until the tree is snug and doesn't tilt. Unbend, fluff and arrange the remaining upper branches of the tree.

Choose 12 wooden thread spools from your stash of crafting supplies. These will be your ornaments, and they do not need to be the same size. Measure the circumference and the height of each spool's inner spindle. Add 1/4 inch to the circumference measurement. From each measurement, cut a strip of Christmas homespun fabric for each spool. Apply craft glue to each spool's spindle and wrap the homespun around them. Allow the glue to dry.

Cut 12, 5-inch lengths of craft wire using wire cutters. Insert one wire through the center of each spool. Place one spool on top of a tree branch. Bend the wire under the branch, bring the ends together and twist to secure. Randomly attach the remaining spools around the tree.

Rip several 1-inch-wide strips from homespun fabric. Cut the strips into 5 inch lengths. Wrap one 5-inch fabric strip around a tree branch that does not have a spool attached. Tie the ends in a knot on top of the branch. Repeat with more strips on the remaining empty branches. This will fill in the decorations. If you have areas that look like they could use a little something more, tie additional strips around the trunk of the tree.

Rip a 2-inch-wide by 18 inch-long strip of homespun. Wrap the strip around the top of the tree and tie it into a bow. Trim the ends as desired.

To further stabilize your tree, wire the tree to the bed spring using short lengths of craft wire.

Because these trees are so inexpensive and quick to make, they would be great centerpieces for end-of-the-year banquets and Christmas parties. They are also the perfect size to spruce up a desk for the holidays, as they take up very little space.
Your Recently Viewed Projects
Join our community of 5 million crafters!
Get free craft projects, exclusive partner offers, and more.
Thank You for Signing Up!
There was an issue signing you up. Please check your email address, and try again.