18 Homemade Christmas Decorations: How to Make Christmas Decorations free eBook
18 Homemade Christmas Decorations: How to Make Christmas Decorations free eBook
Learn how to make Christmas decorations that look festive and fun with these DIY craft tutorials!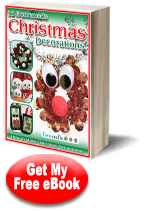 Deck the halls with some of these Christmas decorating ideas! You can easily turn your house into a festive home this holiday season with these 18 homemade Christmas decorations. Learn how to make Christmas decorations, ornaments, and Christmas outdoor decor in this free eBook. There's no better time for crafting then Christmastime when the weather is frightful and all you want to do is cozy up by the warm fire.

Spend your indoor time making the ideas in 18 Homemade Christmas Decorations: How to Make Christmas Decorations, from Christmas candle crafts and outdoor xmas decorations to simple Christmas decorations and Christmas decorating tips. All you have to do to get started is download our free eBook. You can save it to your computer, print it out, or just come back and download it again and again. You'll discover new Christmas ideas each time you page through it!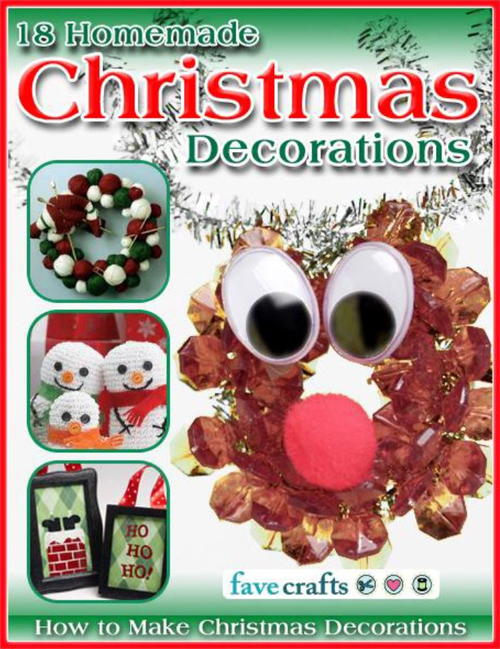 18 Homemade Christmas Decorations: How to Make Christmas Decorations free eBook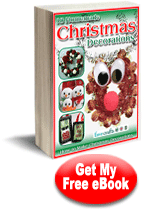 Download your copy of 18 Homemade Christmas Decorations: How to Make Christmas Decorations today.
Note from the Editors
Hello, Readers!
Christmas is on its way, which means it's time to get ready! One of the best ways to catch the Christmas spirit is by decorating your home with festive Christmas decorations. Of course the best way to make your home cozy during the holidays is to use handmade decorations! In our eBook, 18 Homemade Christmas Decorations: How to Make Christmas Decorations, you'll find lots of ideas for Christmas decorations to make for your home, your yard, and your tree. We put this eBook together so that you could have a stylish way to DIY your Christmas décor this year, and every year.
You can find more craft projects, great activities for kids and decorating ideas at www.FaveCrafts.com.
Our eBooks, like all of our craft projects, are absolutely FREE. Please feel free to share with family and friends and ask them to sign up at our website for free newsletters from FaveCrafts.com.
We hope you enjoy reading and creating!
Sincerely,

What's in this Free eBook
Christmas Outdoor Decorations: Christmas Knitting Wreath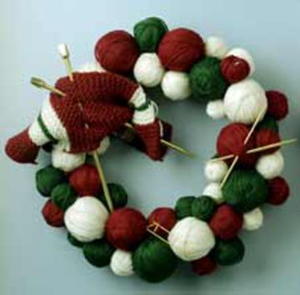 Many people neglect the outdoors when decorating for the holidays. Don't be one of those people! You should decorate the outside of your house with as much fervor as you do the inside. In fact, if there is one area you decorate this Christmas, let it be the outdoors because that is what the most people will see. And don't you want to share your Christmas spirit with neighbors and passersby? Outdoor Christmas decor doesn't have to be limited to strands of colorful lights (though those are obviously a necessary starting point). Homemade Christmas decorations for the outside of your house include wreaths, yard ornaments, and even decor for your roof! Get creative with your outdoor holiday decorations. If there's one outdoor Christmas decoration that everyone needs, it's a homemade wreath, like this one made of yarn balls. If you are a knitting fan, create this jolly Christmas knitting wreath in red, green, and white. You only need a small amount of yarn to cover what are actually inexpensive foam balls. Use this project and our other outdoor Christmas decorating ideas to learn how to make Christmas decorations you'll use year after year.
Homemade Christmas Tree Ornaments: Santa Frame Ornaments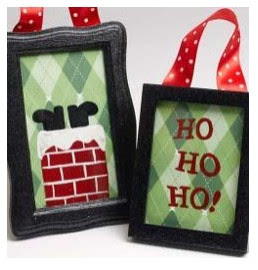 Once you string up your Christmas lights, fill the lawn with festive decorations, and hang a handmade wreath on the door, it's time to set up the Christmas tree and trim it with homemade ornaments! There's no reason you'd have to go to the store to buy Christmas ornaments, especially not when we've got so many homemade Christmas decorations to make easily and on a budget too! Learning how to make Christmas decorations and ornaments is doubly rewarding: you not only get the satisfaction of spending some time relaxing and crafting, but you also get to decide exactly what each of your ornaments looks like. If you can't find an ornament you want at the store, make it yourself with these Christmas decorating projects and inspiration. These Santa Frame Ornaments are some of the simplest yet most stylish homemade Christmas decorations. You don't need any special tools or skills to make these! You can turn inexpensive picture frames (from the dollar store, thrift store, craft store, or even your attic!) into festive works of art with these homemade paper Christmas decorations. Another great thing about this project is that you can just use the instructions and photos as inspiration and develop your own unique Christmas motif to frame! You can even extend this project to use for other holidays. The possibilities are endless.
Christmas Decorating Ideas: Christmas Tree Advent Calendar
Now that your yard is decorated and you've trimmed the tree, you've still got the rest of your home to decorate! Make homemade Christmas decorations for your kitchen, living room, bathroom, and even your bedroom! There are so many other Christmas decorations to make, from tree skirts and stockings to garlands and advent calendars. In this free eBook you'll find lots of ideas for homemade Christmas decorations to use around the house, including a few Christmas crochet patterns! And here's an easy Christmas decoration idea that will get the whole family involved: the Christmas Tree Advent Calendar is a beautiful sewing project to make ahead of time and use all month long in December. Just fill the pockets with treats to enjoy as you count down to Christmas! This project is one of the more advanced Christmas decorations in the free eBook, so if the embroidery looks complicated, don't worry! There are lots of other easy projects included in this eBook, and you'll learn how to make Christmas decorations quickly and easily with our simple tutorials.
Homemade Christmas Tree Decorations: Scrapbook Paper Christmas Tree
Make homemade Christmas tree decorations to finish off the festive look in your home this Christmas. Just because you already have a beautiful Christmas tree brimming with homemade ornaments doesn't mean you can't make lots of little trees to set around the house too! Homemade paper Christmas decorations like this one are as thrifty as they are easy--all you need is a few sheets of paper to get started. This Scrapbook Paper Christmas Tree is also a great project for using up leftover paper scraps from previous project (perhaps all the Christmas cards you finished up already?). Inside this free eBook, you'll also find a Christmas tree inspired centerpiece to use at your holiday party, and more Christmas tree motifs. Don't you just love crafting miniature versions of larger things? Mini trees are a great way to spread the Christmas cheer around the house, especially in rooms that are far from the actual Christmas tree. And if you live in a small apartment or can't have a big tree for some reason this year, homemade mini trees like this one are perfect for adding a touch of Christmas cheer without taking up too much precious storage space!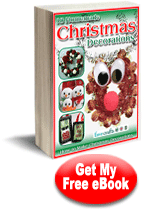 Download your copy of 18 Homemade Christmas Decorations: How to Make Christmas Decorations today.
Need Help Downloading?
You can easily download and print out each book for on-hand reference while crafting. For help downloading our eBooks, check out the FAQ here: How to Download our eBooks.

Don't Miss Our Other Free eBooks!
Be sure to check out our entire collection of eBooks! You'll find titles such as:
Sign Up for Our Free Newsletter
With your free copy of 18 Homemade Christmas Decorations: How to Make Christmas Decorations eBook you can also subscribe to our Quick and Crafty newsletter to become part of a helpful and friendly crafting community. In subscribing to the newsletter you will receive:
Daily emails with free craft projects, tips, collection pages, videos and more
Chances to win craft books and products from our weekly giveaways and contests
New FREE patterns made available to you throughout the year
Access to our free project library full of over 7,000 more free craft projects
The opportunity to share ideas and help others in the crafting community
What's the best part about this eBook? Is it that it gives you 18 new ideas for crafts to make this Christmas? Is it that you can keep it on your computer at all times without being connected to the Internet? Is it that you can print it out and use it when your computer is not around? Is it that we've provided ideas for both indoor and outdoor Christmas decorating? No, the best part about this eBook is that it's 100% free! All you have to do to access these free craft tutorials is download the eBook onto your computer, and it's yours forever! So what are you waiting for? Download this eBook for free today and broaden your crafting horizons. Learn a new craft technique, spend time creating something beautiful, and decorate your home with handmade pieces. These are all ways to have a memorable Christmas.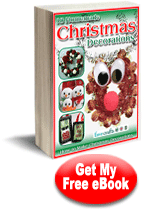 Download your copy of 18 Homemade Christmas Decorations: How to Make Christmas Decorations today.
Your Recently Viewed Projects