Quick Spiral Quilt Christmas Tree Skirt
Create a quick spiral quilt from Sulky of America with metallic thread for a pretty Christmas tree skirt this holiday. Making quilts without corners is easier than you think!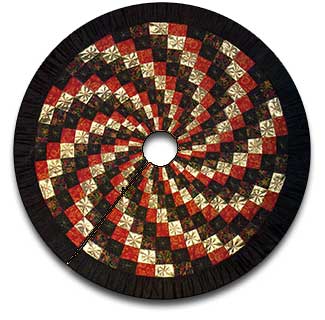 Materials:
Fabric 45" Wide

Color A - Interfaced Gold Lamé - 3/4 yd.
Color B - Pine Green Christmas Floral - 3/4 yd.
Color C - Red and Gold Fabric - 3/4 yd.
Color D - Pine Green with Gold Pin Dot - 3/4 yd.

Ruffle - Pine Green with Gold Pin Dot - 2 yds.
Batting - 46" x 46"
Backing - 1 5/8 yd. x 45", 60" or 90" wide
Straight Stitch Sewing Machine with size 14/90 top-stitching machine needle
Sulky Metallic Thread - 1 spool each of Gold #7007 and Christmas Red #7014
9° Wedge Ruler
12" Square and 6" x 24" Ruler
Rotary Cutter and Mat
#1 Safety Pins
Wide Transparent tape
Cutting

Colors A, B, C, D
Cut 8 strips each - 2-3/4" wide
Since all strips are the same width, you may layer your fabric and cut all four colors at the same time. Pin and label color groups together.
Ruffle
Cut 8 strips - 8-1/2" wide

Sewing the Strip Sets

Use an exact 1/4" seam allowance throughout this pattern.
1. Sew the strip sets together in the following order:
Strip Set 1 A-B-C-D-A-B-C-D
Strip Set 2 B-C-D-A-B-C-D-A
Strip Set 3 C-D-A-B-C-D-A-B
Strip Set 4 D-A-B-C-D-A-B-C

2. Label each strip set (1,2,3, or 4) and indicate on the label which side is "top". Be careful not to turn the strip sets around.

3. Iron strip sets 1 and 3 toward the top of the strip set and iron sets 2 and 4 toward the bottom of the strip set.
Cutting the Wedges
1. Before cutting, place loops of wide transparent tape on the back of the Wedge Ruler to help keep it in place while cutting.

2. Place the 9° Wedge Ruler on the strip set so the narrow end of the wedge is at the top of the strip set.

3. Set the 12" line on the 4th or middle seam of the strip set.

4. Cut 10 wedges from each strip set. Keep them pinned together in sets. Label these wedge cut sets.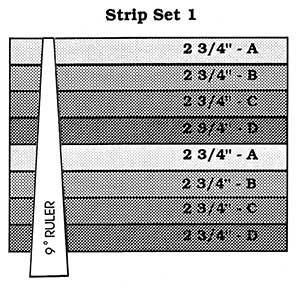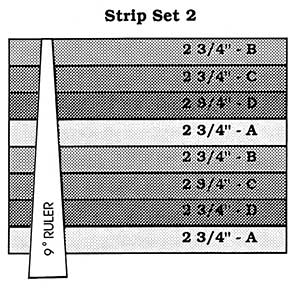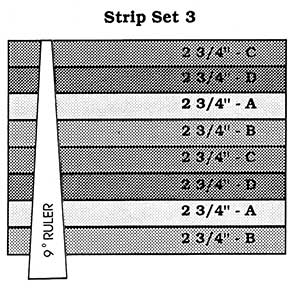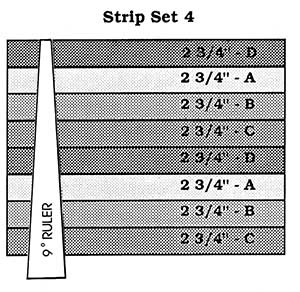 Constructing the Circle
1. Sew each quarter circle into four Ten-Wedge-Units.
Unit 1: 1-2-3-4-1-2-3-4--1-2
Unit 2: 3-4-1-2-3-4--1-2-3-4
Unit 3: 1-2-3-4-1-2-3-4--1-2
Unit 4: 3-4-1-2-3-4--1-2-3-4

2. Iron each Ten-Wedge-Unit, being careful not to stretch it.

3. Using 12: Square Ruler, check to see that each Ten-Wedge-Unit is square. Adjust as necessary.

4. Sew the four units together, leaving one side open to slip around your tree.

Ruffle
1. Sew the ruffle strips together to form one long strip.

2. Fold this strip in half lengthwise (with wrong sides together) and iron.

3. Gather the ruffle along the raw edge.

4. Pin the ruffle to the tree skirt. Adjust the ruffle fullness so that on ruffle section will fit five wedges.

5. Sew the ruffle to the tree skirt. Press seam.

Layering the Quilt
1. Layer the batting, Tree Skirt (right-side up) and the backing (right-side down) in this order.

2. Pin along the Tree Skirt edge.

3. With the ruffle lying toward the center of the tree skirt, trim the backing and batting to the edge of the Tree Skirt.

4. Sew along the outside edge, the inner circle and one side. Leave one side open for turning.

5. Cut batting and backing along the opening and inner circle.

6. Turn the Tree Skirt to the outside.

7. Hand stitch the opening closed.

8. Smooth the Tree skirt on a flat surface and pin the layers together with #1 safety pines.

Quilting
1. Set up machine for quilting:
For quilting in Gold Lamé blocks, thread top with Sulky Red Metallic #7014 and a matching 40 wt. Sulky Rayon in the bobbin. When quilting in Pine Green Pin Dot blocks, use Sulky Gold Metallic #7007 on top and a matching Gold Sulky Rayon in the bobbin.
Top Stitch Needle size 14/90.
Reduce tension slightly.
Method I - Machine Feed
Attach a Walking Foot if available.
Set machine for normal straight stitch (12 stitches per inch).
Method II - Free Motion feeding
Attach a Darning Foot and reduce foot pressure
Set machine for zero width
Cover or lower feed dogs
2. To emphasize a swirling design, quilt from connecting corner to corner of squares A and C.

3. Add a straight stitch starburst design in each block that the quilting line intersects.
Your Recently Viewed Projects