Heavenly Christmas Trees: 13 Easy Angel Ornaments to Make
Fill your home with divine holiday decor with these Christmas angel ornaments to make!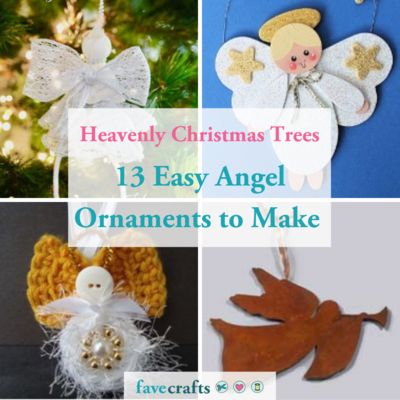 "Deck the halls with boughs of holly..." "Silver and gold decorations on ev'ry Christmas tree..." "Rockin' around the Christmas tree at the Christmas party hop..."

There's a reason why so many Christmas songs sing about the joy that comes from holiday decorations.

Few things bring us closer to one another or closer to God than decorating our house in celebration of Jesus' birth. It's a process that reminds us of all the gifts God has given us, including His only son. Even better than other homemade Christmas decorations, however, are the ornaments. Now you can bring holiness to your Christmas tree with DIY angel ornaments so heavenly you'll want to make them all!

The best part about these DIY Christmas ornaments is that they're crafts the whole family can join in on. Beginner crochet designs, simple popsicle stick masterpieces, and even beaded beauties can be found among these ingenious tutorials. Your children will thank the Lord a thousand times over for all of this wintertime fun. After all, what can bring a smile to a child's face more quickly than a tinsel-decked fir tree, twinkling with lights and bursting below with brilliantly colored packages? 

If you want to truly get into the Christmas spirit this year, then you positively need to learn how to make angel ornaments. Joyful, serene, and absolutely adorable, these pieces will put a handmade spin on your wintertime decor that will warm up even the snowiest days.
Table of Contents
DIY Crochet and Fabric Christmas Ornaments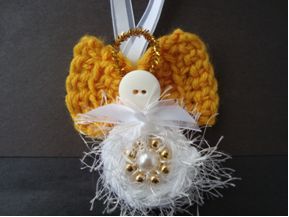 Soft, cute, fuzzy, and flying, these DIY angel ornaments are just what your decor needs to ring in the spirit of Christmas. The best part is that these celestial cuties will give your tree the hominess it needs to brighten your day whenever you see it!

With these ornaments, like the Little Angel (shown), you can even take your angels—knit or otherwise!—on the go wherever you go. These soft angel decorations can function as anything from a Christmas ornament to a fashionable pin.
If you want to give your Christmas tree a classic crochet look, then look no further than this stunning, snow-white angel ornament pattern. With a delicate stitch and a magnificent angel outline, this craft is guaranteed to brighten your holiday season wherever it's hung.
Angel ornaments are undoubtedly the best way to decorate the body of the tree, but what about the very top? Give this angelic DIY topper the loveliest spot among your Christmas decorations, and you'll be blessed with happiness in your heart all winter through.
Easy DIY Christmas Tree Angels
Even beginner sewists can make ornaments worthy of a holiday decoration store. Gauzy wings and flouncy skirts make this angel Christmas ornament look like it's on its way to celebrate Jesus' birth in the manger. You won't believe how exquisite this kid-friendly Christmas craft can be!
Angels aren't the only decorations perfectly suited to deck your Christmas tree. Dress your tree with as many faithful ornaments as your craft table can handle with these 12 Homemade Religious Christmas Ornaments
Vintage Christmas Ornaments to Make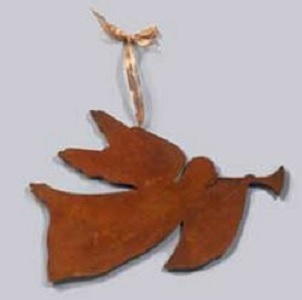 Hark! The herald angel sings a lovely holiday tune in these classic, vintage-looking Christmas ornaments. Everyone wants their Christmas tree to look like its decorations have been passed down for generations, and with these clever homemade ornaments, it can! However, these are so much more than your grandma's old Christmas ornaments.

Angel ornaments like the Antique Angel Ornament or Wall Decor (shown) are just the thing to remind you of your history this holiday season. Aged bronze, lustrous pearl, and classic ribbon all combine to create a fleet of beautiful vintage angel decorations in this DIY craft and more.
God's greatest gift to crafters is all of the materials He gave them! Now you can combine your favorite materials, like glistening wire, shiny pearls, and brilliant ribbon, to make a religious design that will be the new centerpiece of your Christmas tree decorations.
Combine the homey, antique feel of crochet accessories with the ornate glitz of golden braid, and what do you get? An angel tree topper that you'll celebrate almost as much as the Christmas tree itself! This glittering accent piece will be as bright as the star that led to Jesus' manger.
From sateen to glitter to velvet, any type of ribbon will give you an angel Christmas ornament worthy of a home décor catalog. The soft material of this piece will make even your pine needle tree look as soft fresh snow—a look the whole family will adore.
From decorative pillows to Christmas cards to nativity scenes and more, this collection of faithfully made Christmas crafts are what you need for the jolliest Christmas yet: 27 Christian Christmas Crafts
Children's Christmas Tree Decorations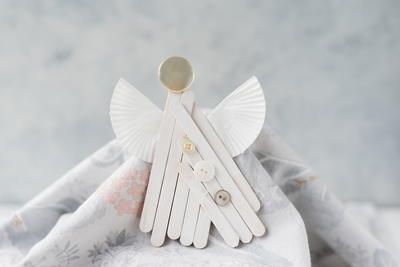 The best part about Christmas is that it gets the whole family—kids included—together in celebration of Jesus' birth. Now your kids can enjoy Christmas from the very start of the season by letting them in on the decorating fun! You don't have to go searching for elusive materials with these heavenly designs. Materials like the popsicle sticks used in Popsicle Stick Angel Ornament Craft (shown) are as inexpensive as they are simple to use, so the kiddos are welcome to join in the crafting spirit.
Your Recently Viewed Projects
Join our community of 5 million crafters!
Get free craft projects, exclusive partner offers, and more.
Thank You for Signing Up!
There was an issue signing you up. Please check your email address, and try again.