Unique Tampon Angel Christmas Ornament
Our guest contributor has a very unique craft. This is her story: Some people think this is great, others think it is gross and ridiculous… but I am a big fan of the tampon angel. A few years ago when I had my first Christmas tree, I had a trim-the-tree party and invited my friends over to make crafts to decorate the tree with. A lot of them were scared of being crafty, so I had some pretty easy ideas for them. My favorite was the tampon angel. Certain brands work better – I think ended up deciding Playtex worked best because it doesn't just expand into a big rectangle.
This is a fun, creative idea that women of all ages are sure to appreciate. Unlike anything you're sure to find in stores, this handmade Christmas ornament is sure to bring a smile to anyone's face...and is a fun gift for any time of year. Shock and amaze this year with the fun and unique Tampon Angel Ornament!
Materials:
Playtex Tampons
Bowl of Water
Starch
Wooden Bead
Hot Glue
Fine-Tipped Markers
Metallic Pipe Cleaners
Wired Ribbon
Bows
Glitter
---
Why make one Christmas ornament when you can cover your tree in DIY Christmas ornaments? Discover tons of great Christmas ornament ideas in 50+ Simple Homemade Christmas Ornaments. This collection features crafts for every skill level. You'll also find creative ways to make recycled Christmas crafts, beaded Christmas ornaments and stunning Santa crafts. Save this collection for years to come - there are plenty of ideas you don't want to miss.
---
Instructions:
You start by taking the tampon out of the applicator and wetting it. I usually use a bowl of water with a little starch mixed in.

Then you can shape the angel "dress."

I use a wooden bead for the head and thread the string through. You can use a little hot glue to keep the head facing the right direction.

We used fine-tipped markers to draw the face in and metallic pipe cleaners to make halos.

You can add yarn hair but most of my friends didn't get that far.

For wings, we tied pieces of wired ribbon in the middle to make a knot or used bows and hot glued them to the back of the angel. You can cut the ribbon to make it wing-shaped or leave it in a bow.

Some people glittered theirs, others left them pretty plain.

But overall, it is a very easy craft and I still hang them on my Christmas tree.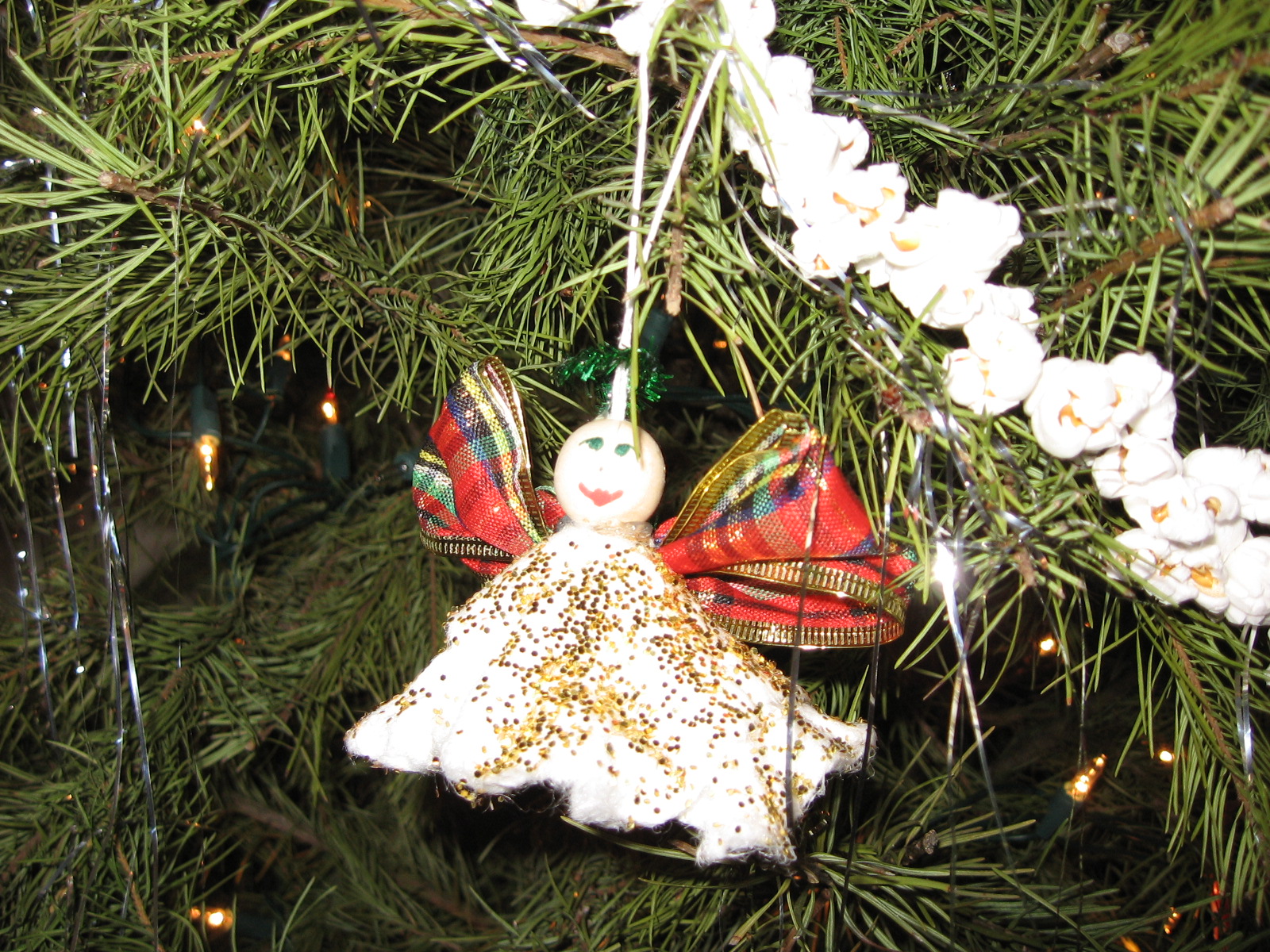 ---
DID YOU KNOW?
Trimming a Christmas tree is a tradition that so many people look forward to every single year. Everyone has his or her own fun ways to celebrate the holiday season, and some traditions are more unique than others. In fact, if you travel around the world, you're likely to encounter some pretty unique Christmas traditions and celebrations.
For example, in South Africa, it's customary to sample deep-fried catepillars on Christmas Day. If that scares you, don't travel to Austria during the holiday season. There, Krampus, a Christmas devil, is said to beat naughty children with branches. Evil spirits are also a concern in Norway, where people are known to lock away brooms on Christmas Day so they are not stolen by witches.
Not all traditions are scary (or less than tasty), though. In Japan, thanks to a popular 1974 advertising campaign which introduced the distinctly American cuisine, families feast on Kentucky Fried Chicken on Christmas Day. In Estonia, family don't gather around the fireplace - they head straight to the local sauna instead.
Shoes have also become an integral part of Christmas traditions across the world. In Iceland, children leave a shoe on their windowsills during the 12 days of Christmas. In Germany, children leave a shoe outside their front doors on December 5th. In both cases the shoes can either be filled with candy or toys (for nice children) or tree branches (for naughty children).
---
Your Recently Viewed Projects
Join our community of 5 million crafters!
Get free craft projects, exclusive partner offers, and more.
Thank You for Signing Up!
There was an issue signing you up. Please check your email address, and try again.