How to Wash Crochet and Knit Projects
Everything you need to know about washing your beloved crochet and knit projects.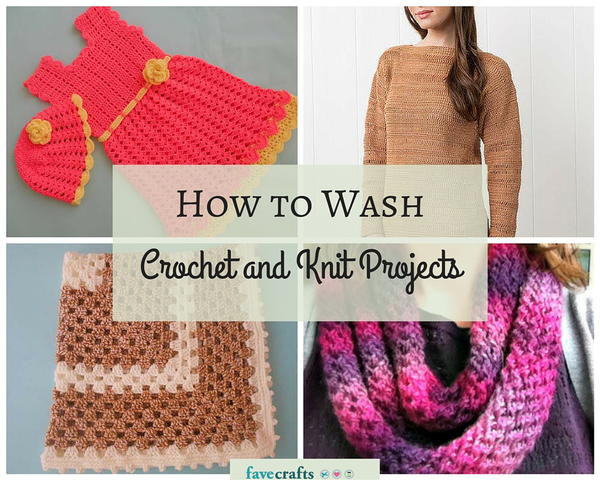 How to Wash Crochet and Knit Projects
Whether you're a seasoned crocheter or knitter, or are just entering the wonderful world of crocheting or knitting, there are tips and tricks we could all learn from. One of the tricky subjects when it comes to caring for your creations is how to wash crochet and knit projects. We asked some of our readers for knitting tips and crochet tips for washing handmade crochet projects. It turns out, there are a ton of ways to avoid unnecessary disasters like shrinking or misshaping your beloved crochet or knit projects.

You'll be so pleased to add to your wealth of knowledge about these two favorite pastimes with these great crochet and knitting ideas. When you're done, be sure to check out the project ideas below so you can make your own crochet or knit crafts and put that knowledge to good use.
If you are brand new to crochet, check out our collection of beginner crochet projects. This big list of beginner tutorials is a huge hit with our readers. Check out why! - 
Washing Tips for Crochet and Knit Projects
It's never too late to learn more crochet or knitting tips. Check out these great ideas below for tips and tricks on how to care for your crochet and knit items. The last thing you want is to ruin a piece you've worked hard on by washing it the wrong way. These are also useful to know if you want to pass on some useful information to any recipients of your lovely crochet and knit creations. With these tips at hand, you'll rest assured knowing you're doing everything you can to preserve your treasured craft projects.
Use acrylic yarn from the beginning. "No natural fiber means no shrinking or felting," says Mimi Bellini, a Facebook user and fan of our FaveCrafts page. To avoid the risk of shrinkage, acrylic yarn is one of the safest bets you could go with.

Handwash using ivory flakes or Dreft detergent for babies, says Ann Henderson, a Facebook user and fan of our FaveCrafts page. Dreft detergent is especially useful because it treats your projects as gently as possible and is less harsh than typical detergent.

Wash using cold water. Unless you have very hard water, tap water is safe. If your water seems too hard, distilled water should do the trick instead.

Always wash out the suds by rinsing in cold water as many times as you need. You should do this until all the suds have disappeared.

Dry flat on a towel, says Sanelle Strydom from our Facebook page. You should do this after you've squeezed excess water out of your project by pressing it firmly (rather than twisting it). You may need to leave it to dry for up to 24 hours.
Crochet and Knit Patterns
These are just a few easy crochet patterns and easy knit patterns to get you started. It's hard to resist these lovely yarn projects, and you'll definitely want to know how to take the best care of them possible. Enjoy these fun and fresh ideas to get you started, and be at peace knowing you're a guru now on how to take care of your knit and crochet projects.
Your Recently Viewed Projects
Join our community of 5 million crafters!
Get free craft projects, exclusive partner offers, and more.
Thank You for Signing Up!
There was an issue signing you up. Please check your email address, and try again.