Turn an old empty tissue box into this cute Cupid's Message Box project from I Love to Create! This craft is perfect for the classroom and makes a great receptacle for those classroom Valentine's cards! Kids can decorate white boxes to their heart's content!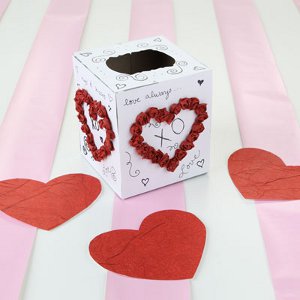 Materials:
Aleene's Acid-Free Tacky Glue Glue Sticks
Scribbles 3D Paint (SC139 Black)
Aleene's Crystal Clear Acid Free Tacky Spray™
Aleene's Original Tacky Glue
Ruler
Scissors
Tissue box – empty
Red tissue paper
Black marker
White cardstock
Instructions:
Measure tissue box and cut white cardstock to cover sides and top. Adhere cut cardstock pieces to box with Aleene's® Crystal Clear Acid Free Tacky Spray. Cut out opening in top.

Cut red tissue paper into 1/2" x 7" strips. Tie a knot in end of tissue strip and wrap remaining tissue around knot and secure with Aleene's Original Tacky Glue creating a small "rose." Repeat to create several "roses." Adhere tissue roses to white card stock to create a heart shape. Refer to photo.

Use marker to add doodles and love thoughts. Create contrast by tracing over select doodles with Scribbles Dimensional Fabric Paint. Let dry.

For the Valentines, crumble up red tissue paper. Apply glue sticks to cardstock and smooth crumpled tissue over cardstock. Cut out hearts from tissue-covered card stock. Write Valentine's message on cardstock side of heart.

Your Recently Viewed Projects