Rose Petal Self-Compassion Spell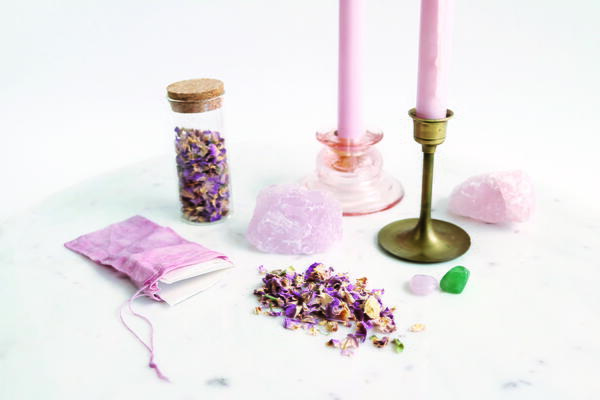 Rose Petal Self-Compassion Spell
Having compassion for yourself is not something that comes as easily as you might think. Many times we are working hard and focused on helping others, and we forget about our own physical and spiritual well-being. We might dwell on past mistakes, and it's hard to move forward when we hold on to so much. This ritual helps you forgive yourself for whatever you regret. This can sometimes be a first step toward manifesting your other desires. Part of loving yourself includes forgiveness. So if you feel like your other spells aren't budging or are stuck somehow, this might be what you need.
Materials List
2 pieces of paper
Pen
Pinch of pink rose petals
1 rose quartz stone
1 jade stone
Small pink pouch
The Ritual
On the first sheet of paper, write down everything you want to forgive yourself for. If it's one specific situation, write down all your regrets surrounding this issue. Let everything out. Writing is a great healer. If you want to, write down what you wish you had said or what you want to say to a specific person. Sit with your eyes closed and meditate on the situation. Let yourself get angry, cry, whatever emotions come to you.

When you feel ready, take the paper and rip it into pieces. Imagine all those situations ending in peace. You can re-create scenes in your mind and see them as all now ending in love and harmony. Let go of all your frustration and anger. It's all gone now.

Once you feel back in the present moment, write these words on your second piece of paper:

I forgive myself
For all wrongs I have done Let love fill my being
And let go of the past
I am now whole
I am now filled with love
I exude loving light from above

Set your rose petals and crystals in front of you. Say these words aloud three times over them. Really feel yourself letting go of the past and filling your present life with love for yourself. Feel calm, at ease and at peace. You can even hold the crystals in your hand as you say this.

Place the rose petals on your paper and fold the paper up into a small square. Place the crystals and the paper square in your pouch. Keep this with you.

When you feel yourself repeating negative scenarios in your head, hold the pouch in your hands and feel the gentle energies of these stones. Once you feel like you have fully let go and forgiven yourself you can dispose of the paper square and place the crystals around your home.
Your Recently Viewed Projects
Join our community of 5 million crafters!
Get free craft projects, exclusive partner offers, and more.
Thank You for Signing Up!
There was an issue signing you up. Please check your email address, and try again.