Rotary Cutting Fabric Craft Technique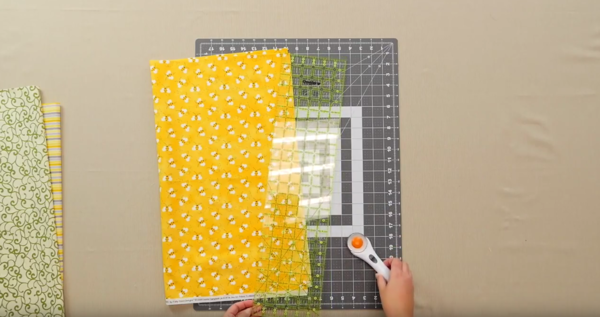 Rotary Cutting Fabric Craft Techique
When you start to take up any new crafting hobby you always have to master the basics before you can really dive into difficult project. For quilting or sewing this Rotary Cutting Fabric Technique is a great basic skill to master. Whether you are making a DIY quilt or taking up some sewing lessons making clean cuts on your fabric is super perfect for starting any project. If you have jagged or unclean lines it will be harder to sew and quilt these together, so be sure to watch this craft video to learn just how easy it is to master this technique! 
Time to CompleteUnder an hour
Primary TechniqueQuilting

Project TypeLearn a Technique
Materials List
Rotary Cutter
Fabric
Ruler
Mat / cutting surface
How to Rotary Cut Fabric
Rotary Cutting Instructions
Start by making sure your rotary cutter has a nice sharp blade so that it can cleanly slice through your fabrics. Replace the blade on your rotary cutter if it is dull. 

Lay your fabric down on matt and smooth it out. Make sure you line up the edge or fold on your fabric with the line on your mat.

Tip: If you have significant wrinkles you can press your fabric to make it smoother before you cut it.  

Line up your ruler with your mat. 

Expose the blade on your rotary cutter, and cut one smooth, clean line all the way to the end. 

Close your blade, remove your excess fabric and you have your first clean cut. 

Turn your mat to make your second cut on your fabric. 

Base your second cut off your first clean cut. We will be cutting a 2.5 inch strip. Find the 2.5 inch mark on your ruler and line that up with your fabric. 

Expose your blade and make one clean cut all the way to end again. Repeat to cut as many strips as you need. 

To make squares you repeat the process making sure your ruler lines up with the cut you already made as well as the side. 
Your Recently Viewed Projects