How to Remove Super Glue
Are you stuck in a super sticky situation? Try these ways to remove super glue from all types of surfaces!
To make your life easier, this How to Remove Super Glue article provides different ways to remove super glue from almost every surface. Learn how to remove super glue from skin, fabric, wood, metal, or plastic.

As DIY craft lovers, we're constantly using different types of materials that end up on our hands, clothes, countertops, and other surfaces. While we're immersed in our projects, we don't care too much about the consequences. Our DIY vases are much more important than mod podge on our fingers. Yet, once we've finished with crafting, we must face the aftermath of our crafting projects. We must take off all the paint, clay, or glue that we've drowned ourselves in. With certain crafting materials, cleaning ourselves up can be tricky and sticky. 

As we all know, super glue is one of the hardest materials to remove. Once it's on any surface, it hardens and viciously sticks. Removing it from skin, clothing, wood, etc. seems virtually impossible because it's so tough. Although we try to peel it off, pieces of super glue residue still remain, and we still can't remove them. 

To make your life a little easier, this How to Remove Super Glue article provides different ways to remove super glue from almost every surface. From salt and water on skin to rubbing alcohol on plastic, this tutorial demonstrates all the methods to get rid off that pesky glue. So, next time you're covered in glue, just refer to this article! 
How Do You Remove Super Glue From Skin?
When you're trying new DIY projects, an essential aspect of crafting is using your hands. I mean, it's why we call these projects "Do It Yourself," right? So, if you're crafting a project that uses super glue, you might get it on your hands. Scratch that, you'll definitely get it on your hands. If you're struggling to remove the super glue from your skin, this salt and water method will easily take it off: 
Pour warm water into a bowl. 
Soak skin in water for 10 minutes. If you can't place the body part into the bowl, dip a cloth in the water and press it against your skin. 
Rub super glue with salt for at least 1 minute. 
Once glue begins to peel, soak affected skin with warm water for 2 minutes. 
Rinse skin thoroughly and moisturize.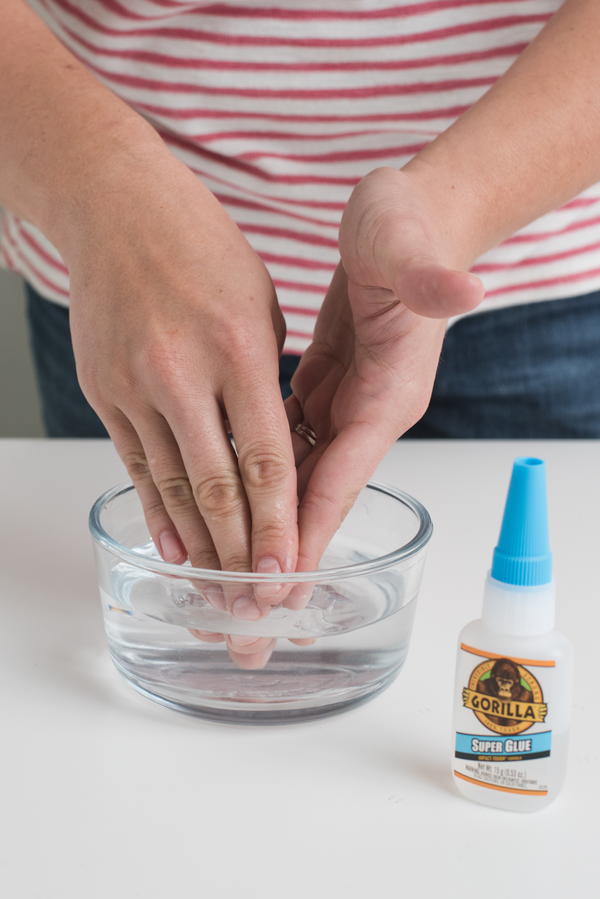 How Do You Remove Super Glue From Fabric?
Most of the time, unbeknownst to us, we end up with crafting materials on our clothing. If you're wearing a nice blouse or pants, super glue on our clothing can be especially devastating. You can't just throw your shirt in the wash and call it a day. To remove super glue from your clothes or any DIY fabric crafts, try this acetone method: 
Let the super glue dry before attempting to remove it.
Once dry, scrub the fabric a little. You can remove bits of it, but it won't remove completely. Don't scrub fabric if it's delicate. 
Apply acetone onto a scrap of cotton wool. 
Using the wool, wipe at the super glue stain. Remember to be gentle with the fabric. 
Wash the fabric if you would normally. 
Note
: If you're dealing with a delicate fabric, you should consider dry cleaning it so that it won't stain!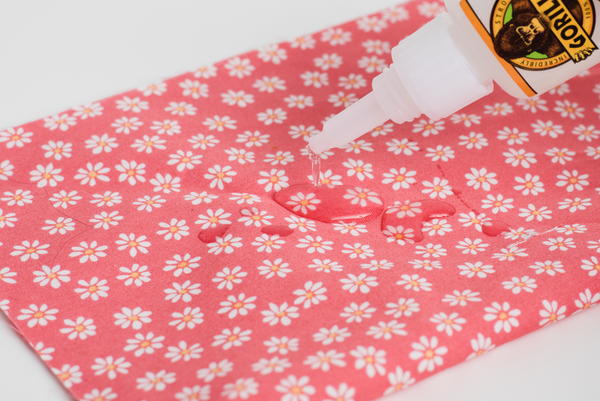 Learning how to remove hot glue is a must-know for any crafter or DIYer. Whether you accidentally stuck hot glue to fabric, spilled it on your table, or even worse find it burning your skin, this helpful how-to is going to show you:How to Remove Hot Glue from Any Surface
How Do You Remove Super Glue From Wood and Metal?
We can all agree that crafting projects can be messy. When we're too consumed by our DIY crafts, we often create a mess all over our wood or metal table. If you're working with super glue, you can't just wipe down your workspace surface to clean it off. You'll have to use this lemon juice method: 
Before you attempt to rub the super glue, try peeling it off. Sometimes, you can get lucky and remove it all at once! 
Pour lemon juice over the affected area.
Using a toothbrush, spread the juice over the super glue in circles. The glue should begin to lift.
Note: 
This method is a great substitute for acetone because it won't damage or stain the surface!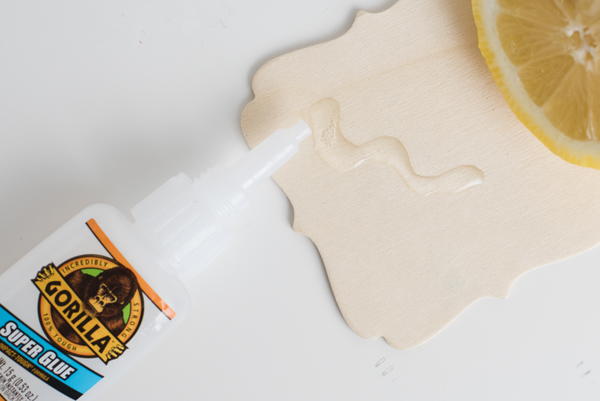 How Do You Remove Super Glue From Plastic?
Are you creating repurposed plastic crafts? When you're using super glue, you can easily spread it onto other unwanted surfaces of your craft. If you need to remove super glue from plastic, try this water and rubbing alcohol method:
Pour water into a tub that you can submerge the plastic into. 
Add 2 tablespoons of dish soap into each 1 gallon of water. Mix thoroughly. 
Soak plastic in the mixture for 3-4 hours. 
Dip a cotton ball into rubbing alcohol. 
Scrub off the remaining super glue.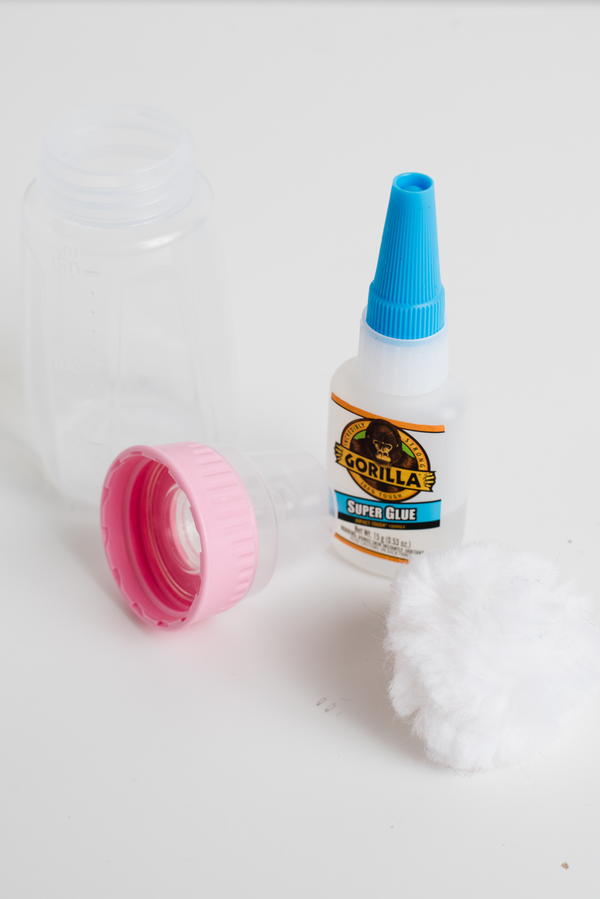 Any experienced crafter knows that you can't just use any old glue with every project. Sure, there are some glues that are incredibly versatile. But not if you're not careful, you might get yourself into some sticky situations. This complete guide will help you make the right choice: Craft Glue 101: How to Choose the Best Craft Glue
What is your favorite craft that uses super glue?
Let us know in the comments below!
Your Recently Viewed Projects
Join our community of 5 million crafters!
Get free craft projects, exclusive partner offers, and more.
Thank You for Signing Up!
There was an issue signing you up. Please check your email address, and try again.