Hot Glue Gun Tips
Learn how to prevent glue gun strings and more with these glue gun tips.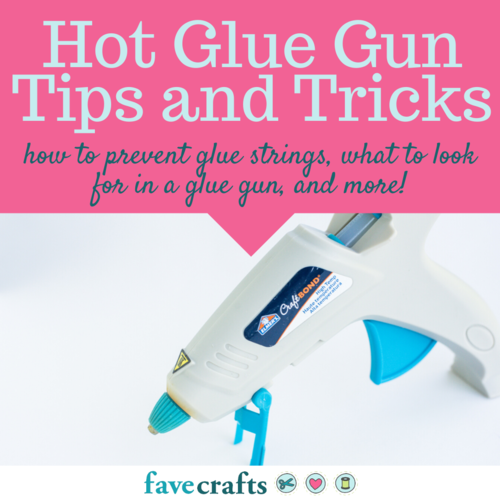 Before you heat up that glue gun, check out these hot glue gun tips and tricks. They will not only help you maximize the benefit of your glue gun but also stay safe while working with such a hot substance.
Hot Glue Gun Tips
Glue guns take at least 10 minutes to heat up. Never force glue through the gun. Forcing glue through the glue gun can break the glue feeder that pushes glue through the machine.
 
Hot and low temp glues have the quickest set time. If you don't feel like waiting minutes or even hours for a glue to dry and set, hot glue is a great option.
 
Not all glue sticks are the same. Read the packaging to determine what the glue will bond. Most glue gun glues are acid free. Also note the "open" time the heated glue will have. Some hot or low temp glues have an open time of 30 seconds while others have 90-120 seconds.
 
Some glue guns come with interchangeable tips. This is a great option if you want more control over the heated glue.
 
Although there is no difference between the bonding of a hot and low temperature glue sticks, there is a difference in the glue's temperature. If you switch back and forth between Hot and Low temperature glues, please remember when you are using the HOT glues that they can burn.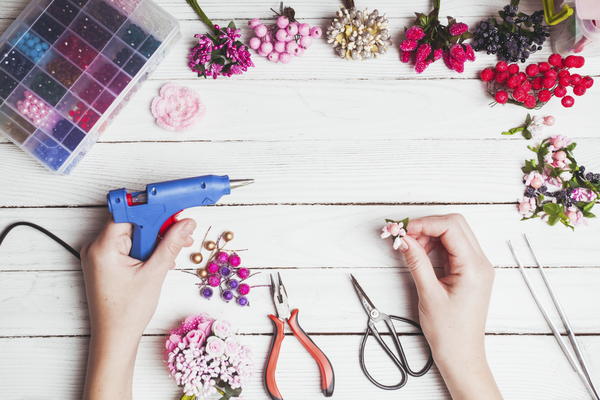 Keeping a bowl of ice water near your work area is a great idea. When working your fingers near the glue, dip fingers into the water to prevent scalding. Always use the stand to keep your glue gun up right when not in use.
 
Don't think of glue as just an adhesive. Use glue as a medium. You can paint on it! Add glitter to it! And the only real limit is your imagination!
 
Many different things cause glue strings. Heat, humidity, and other situations in your environment can cause strings. Put glue sticks in freezer to cut down on strings and keep the glue gun tips clean to prevent strings.
 
Buy a glue gun that matches your hand size for maximum comfort. Look for glue guns that are spring feed.
 
Slick, smooth surfaces are the hardest to bond. Make sure surface is clean (wipe with rubbing alcohol) and score (cut or sand) surface if possible.
 
Low temp is best for delicate materials. It will not melt or burn delicate materials like Mylar, nylon, or laces.
Your Recently Viewed Projects
Join our community of 5 million crafters!
Get free craft projects, exclusive partner offers, and more.
Thank You for Signing Up!
There was an issue signing you up. Please check your email address, and try again.