Green as Spring DIY Wreath
Prepare for the April showers and May flowers with this beautiful Green as Spring DIY Wreath. Full of fun texture, this spring wreath brings all the elements of nature into one beautiful piece of DIY home decor. With flowers, butterflies, and moss-covered rocks, this wreath truly celebrates spring. It's also easier to make than you might have thought! Follow the tutorials step-by-step instructions to help you decorate for spring. When you're done, you'll have the perfect pop of color to hang on your front door.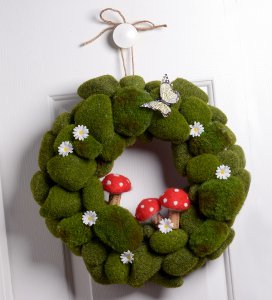 Download our free eBook, 18 Projects Every Crafter Wants, to view the full project!
Your Recently Viewed Projects