Pine Resin-Infused Soaps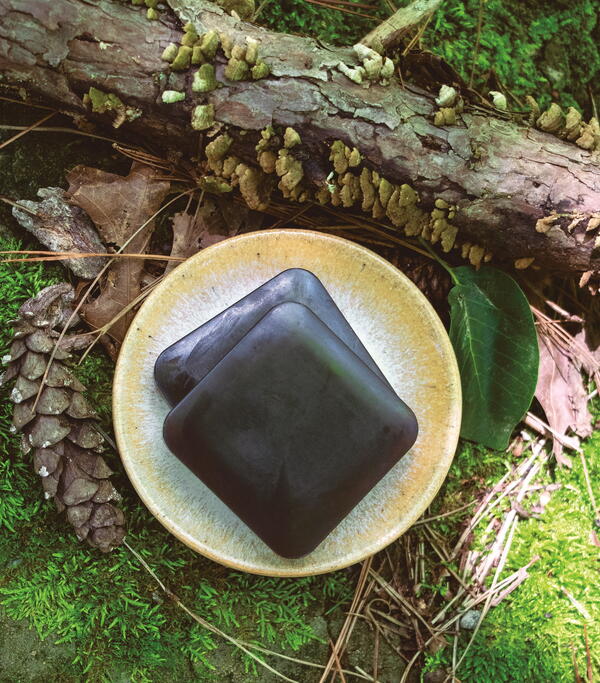 Pine Resin-Infused Soaps
Pine resin (oleoresin), produced by pine trees when injured, is a natural product that seals wounds to protect against infection and insects that may harm the tree. For humans, pine resin can be infused into oils to create salves suitable for soothing achy joints, rashes or problematic skin conditions. In this recipe, we're infusing it directly into soap instead! (See the tip section for information on sourcing resin.) I also included soothing violet or plantain leaves, but they could be replaced with chickweed or comfrey if you'd like, or calendula is another good choice. Resins can be flammable when overheated, so do not microwave this recipe and don't leave it unattended while heating.

Yield: four 2-ounce (57-g) round soaps
Materials List
1 1⁄2 tsp (5 g) pine resin
1 tsp olive oil
5 or 6 fresh or dried violet or plantain leaves
8 oz (227 g) hemp or other glycerin soap base, cut into 1" (2.5-cm) cubes
Small square molds (X-Haibei 4-cavity plain square mold pictured)
Rubbing alcohol, for spritzing
INSTRUCTIONS:
In a wide-mouth, pint (500-ml)-sized canning jar, combine the pine resin pieces, olive oil, violet leaves and glycerin soap base. Loosely cover the jar with a heatproof lid. Place the jar in a saucepan containing a few inches (at least 5 cm) of water. Heat over medium-low heat until the soap starts to melt, 15 to 25 minutes, then lower the heat to low. Allow the soap to infuse for around 45 minutes, stirring occasionally. It's normal for some resin to stick to the bottom of the jar. You can scrape it up gently with a spoon as you stir.

Remove the melted infused soap from the heat and strain it through a fine-mesh sieve into a clean glass jar. Immediately clean the spent herbs and softened resin off the sieve with a paper towel or old rag. Wash the sieve with hot water and dish soap and allow it to air-dry.

Pour the hot pine resin–infused soap into soap molds and spritz the top with alcohol to eliminate bubbles. Allow the molds to sit undisturbed for 3 to 4 hours, until the soap is completely cooled and hardened. Unmold the soaps and wrap them tightly. Store them in a cool, dry place, out of direct sunlight.
Sourcing Pine Resin:
To respectfully harvest pine resin, only gather resin that has dripped below a wound or onto the ground; don't harvest it directly from a tree's wound. You can also find sustainably sourced pine resin online from small shops at Etsy.com.
Pine (Pinus spp.) trees that are suitable for this project include white pine (Pinus strobus), ponderosa pine (Pinus ponderosa), pinyon pine (Pinus edulis) and the many other species specifically in the pine family.
Cleaning Tips: If you notice any sticky spots on the fine-mesh sieve after it dries, rub them with coconut or olive oil, then wash it again with warm soapy water. The jar that the soap infused in will be somewhat difficult to clean and will likely need to be saved just for future resin projects. To clean it as well as possible, while the jar is still hot or very warm, use a spoon to scrape up as much spent resin from the bottom as you can, cleaning off the spoon with a paper towel or old rag. Pour about an inch or two (2.5 to 5 cm) of vodka or alcohol into the bottom of the jar and leave it for a few days to help dissolve most of the remaining resin.
Your Recently Viewed Projects
Join our community of 5 million crafters!
Get free craft projects, exclusive partner offers, and more.
Thank You for Signing Up!
There was an issue signing you up. Please check your email address, and try again.