11 Homemade Soap Recipes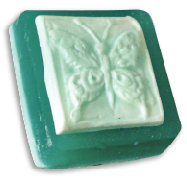 Be warned - once you learn how to make homemade soap, you learn how to make soap, you may never buy the generic stuff again. These 11 Homemade Soap Recipes are easy to follow and fun to complete. Some people are afraid of soap making recipes because they seem complicated or too scientific. As you'll see with these DIY craft ideas, soap making is actually so fun and easy. Plus, it doesn't take forever to complete and you can completely customize each bar you make.
No matter the shape and size of your homemade soap, you can rest assured that the results will be wow-worthy. Soap making recipes are perfect for anyone who doesn't feel like pulling out a ton of craft supplies. If you're more of a DIY fan and less of a craft enthusiast, you're definitely the perfect person for these soap making recipes. Follow along as if you're cooking a meal - the steps make sense and are easy to follow. Thrifty crafters and DIY fans alike will love learning how to make soap - the first step is checking out these soap making recipes and picking a project.
11 Homemade Soap Recipes
Table of Contents
---

Use these soap making recipes to add a little fun to your overall kitchen decor. Once you're done making soap, you can create a ton of other great projects with help from 39 Low Cost Kitchen Crafts. The projects in this free eBook are varied, interesting and so much fun to complete. Discover ways to make your own fridge magnets and knit your own dishcloths.
---
Soap Making Recipes
Start with some simple soap making recipes and quickly discover how to make soap at home. This DIY project is perfect for anyone who likes to save some money. Don't be afraid to experiment with unexpected colors, molds and shapes. Handmade soap recipes are meant to be modified and updated. If you've never made your own soap or just don't know how to how to make homemade soap, start with these projects. Once you get the hang of these soap making recipes, you'll feel like an expert and will want to give your own creations as gifts.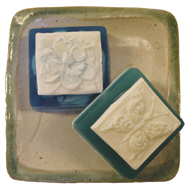 Decorative Molded Soaps
How to Make Soap Bars
No matter the day or time, you can always find great soap making recipes to test out. Learn how to make soap bars that you can slice up and give out as gifts to your friends and family members. Soap making recipes can come in handy during the holidays - don't show up at a holiday party without a bar of soap wrapped in cellophane! You can also learn how to make soap for the Fourth of July and create your own American flag. Try something new and think outside the box - there's really no wrong way when it comes to soap making recipes.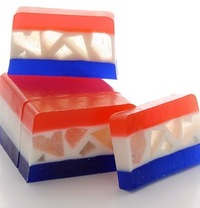 Fourth of July Layered Soap
---

If you're looking for ideas for wedding favors, consider these soap making recipes. Better yet, consider all of the project from 20 Homemade Wedding Favors and make it a night to remember. Guests will fall in love with your creativity and will appreciate the thoughtfulness behind every handmade piece. Don't tell them that these projects are actually so easy to complete (they don't need to know that).
---
Your Recently Viewed Projects
Join our community of 5 million crafters!
Get free craft projects, exclusive partner offers, and more.
Thank You for Signing Up!
There was an issue signing you up. Please check your email address, and try again.