Petals and Fringe Handbag
This Petals and Fringe Handbag from I Love to Create is great for a night out or a day spent shopping. The colorful flower makes this fringe purse perfect for summer or spring and the fabulous fringe is always a fun addition to your accessories!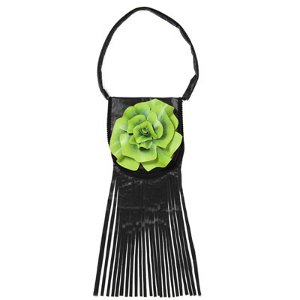 Materials:
Aleene's® Platinum Bond Super Fabric™ Textile Adhesive
Aleene's® Crystal Clear Acid Free Tacky Spray™
Tulip Soft® Fabric Paint (Ebony and Holiday Green)
Sewing pins
Needle
Split rings or D-rings
Pleather or leather-like fabric, Black, approximately 1 yard
Yardstick
Painter's tape and/or clothespins
Brush, ½" drybrush or bristle brush
Sewing machine
Pleather or leather-like fabric, Lime (or color of choice), approximately ½ yard
Thread to match
Dowel, 3/8", approximately 12 – 15" long
Scissors
Black trim of choice, approximately 4 – 5 yards
White chalk pencil
Instructions:
Enlarge pattern of purse and rose to 50% or create own pattern using pattern dimensions.

Lay purse patterns on black fabric, pin, and cut out. Cut one of the elongated oval-shaped pieces in half; these pieces will serve as the underside of the purse. Repeat step for fringe section. Note: If you would like both sides of the fringe to have the leather look, cut a second piece identical to the first and spray with Aleene's® Crystal Clear Tacky Spray™ and adhere pieces together (leather side out).

Lay rose petal patterns on Lime fabric, pin and cut out. For center piece, cut a small strip approximately 3" x ½".

Rose petals: On backs of the larger petals, roughly draw a half dollar size circle in center. Hand sew gather stitches around circle and gather fabric slightly. Knot thread. Repeat gather with remaining petals. Shape the small strip of fabric into a coil to resemble center of a rose. Stitch to hold together.

Arrange petals on top of one another, with larger ones on bottom (refer to picture) and stitch together down center part of rose. Set aside.

Lay out the elongated purse piece, leather side up. Place fringe portion on top of purse piece, about 3 inches up from bottom, leaving a nice length for the fringe. Place one of the halves, which will serve as the bottom piece of purse (leather side down) on top, sandwiching the fringe piece in between. Mark with chalk or pencil where fringe piece will be inserted. Remove fringe piece. Pin together the purse pieces and stitch approximately ½" seams down up to the mark for the fringes. Turn purse right side out.

Fit fringe portion up inside bottom of purse, making sure it fits well. Turn edges of curvature under on both top and bottom sides of purse and hand baste to make sure both top and bottom are flush when machine stitching.

Stitch sides of purse together, with fringe piece sandwiched in between. When fringe portion is machine stitched on, begin cutting the fringes into 3/8"-wide strips.

Take the remaining half of leather fabric and using Crystal Clear Tacky Spray™, spray back of fabric and press onto inside top flap of purse.

Using Platinum Bond Super Fabric Textile Adhesive™, glue trim all around edges of both sides of the purse. Use painter's tape and/or clothespins to secure until dry.

Stitch D-rings or split rings on edges of purse where flap folds over.

Cut a 3" x 30" strip of the leather purse fabric. Fold in half vertically with wrong side out and stitch 3/8" seam down the length. Turn right side out (use dowel to help push fabric out).

Insert ends of strap into rings, fold over and stitch to secure.

Apply Platinum Bond Super Fabric Textile Adhesive™ under the central part of back of flower and adhere to top center of purse flap. Let dry. Add a few stitches down core of rose for additional support if desired.

Arrange petals and lift areas for more dimension as desired and tack down with Textile Adhesive.

Pour Holiday Green paint onto foil. For added dimensionality, darken Holiday Green with Ebony. Using a dry brush* technique, brush paint from inner petals outward to create a soft gradated effect, blending into the lime fabric (refer to picture).

*DRY BRUSH: Dip dry brush into color and brush across paper towel to remove heavier concentrations of paint. The effects should be a soft, darker hint of color blending into the lime.
Your Recently Viewed Projects
Join our community of 5 million crafters!
Get free craft projects, exclusive partner offers, and more.
Thank You for Signing Up!
There was an issue signing you up. Please check your email address, and try again.