Whether you need baby blanket patterns for your little one or for a gift, Cecilia Jorcin's Fuzzy Bunny Baby Blanket is perfect! Learn how to make a fleece baby blanket in no time with her adorable tutorial!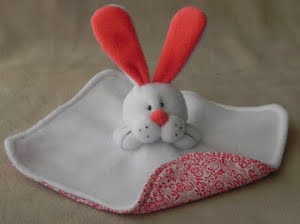 Materials:
white and pink fleece, minky or felt (I have used fleece for this tutorial)
cotton or more fleece or minky for the blankie
2 black beads
white and black thread
needle
Cut the pieces:
Download the free pattern here, print it and cut the pieces. You will get:
2 pieces for the head
2 white pieces for the ears
2 pink pieces for the ears
2 muzzles (white)
2 paw (white)
1 nose (pink)
2 10x10 inches of fleece/felt piece for the blankie (you can also make one of this pieces out of cotton like I did for this tutorial)
Instructions:
Take one white and one pink piece for the ears together, right sides facing and sew along the curved edges, leaving the straight edge open. Turn the ears right side out.



Place the ears over the right side of one piece for the head, align the open edge of the ears to the top edge of the head. Stitch to attach the ears to the head. Lay the other piece of the head, right side down. Sew along the curved edge, leaving the straight edge open. Turn right side out.


Stuff the head with cotton and close the opening.



Take needle and thread (white) and make long stitches along the edges of the muzzles, stuff with cotton and close. Repeat this step to make the paws and nose.



Use your fingers to pinch about 1 cm in the middle of the head and sew from side to side (as shown in the picture below) to create the "orbit" of the eyes, you will sew the beads there.



Sew the nose it in the middle of the face. Then sew the muzzles one next to each other right below the nose. Sew the beads in the eyes.



Wrap the black thread around the paw to make the fingers.


Sew the paws on the sides, under the head.



Use needle and black thread to make the whiskers.



Next you have to make the blankie by taking the fleece and cotton fabric together, right sides facing, sew along the sides leaving a 2 inches opening. Turn the blankie right side out though the opening, sleep stitch to close it and then top stitch along the edge (this last step is optional).



Finally sew the bunny to the blankie and it's done!


Your Recently Viewed Projects