Victorian House No Sew Quilt
This Victorian House quilt is an easy no-sew project you can quilt in a day! Packed with charm and detail like lace curtains, wooden porch railings and more, you won't even be able to tell that this is a no-sew quilt that's fun to make!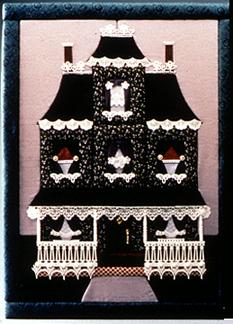 Materials:
STYROFOAM Brand Products:

2 12" X 18" x 1" sheets
Package quilt batting
White craft paint

Fabric:

1/4 yd. dark green for frame
1/4 yd. light green for grass
1/4 yd. light violet for sky
1/4 yd. dark, small-flowered print for house
1/4 yd. dark burgundy for roofs
1/8 yd. dark red print for porch floor
1/8 yd. medium red print for porch front;

Scraps of bright fabric for window curtains, shades, front door and chimneys
Lace:

1/4 yd. 1" pointed scalloped lace for roof tops
1/2 yd. 5/8" scalloped lace for roof edges
1/2 yd. 1" lacy scalloped lace for porch edge
1/4 yd. 1" flower lace (or flower motif cut from wider style) for flowers in front of porch
1/3 yd. lace with 1 1/2" loop motif for under windows
1/8 yd. tiny lace for chimney tops and window shades
1/8 yd. 1 1/2" sheer lace for curtains;

Scraps of lace for tie backs, edges of shades, etc.
Doll House Accessories:

9" X 2" porch baluster (Northeastern Scale Models, Inc. #pbl-2, 1201)
Two 1/4" turned spindles (Houseworks #7009 spindles);
Door handle and knocker (Realife Miniatures #801)

Glue gun and glue sticks or white craft glue
1" putty knife
Toothpicks
Pencil
Tracing paper
Ruler
Cuticle scissors
Saw-toothed picture hanger
Instructions:
Enlarge pattern to 22" X 16" on tracing paper.

Glue 2 sheets of STYROFOAM together along 18" sides, using toothpicks to reinforce seam. Let dry thoroughly.

Mark off a 1" frame around the 24" x 18" sheet. Center pattern inside frame and transfer pattern onto surface of sheet. Use a ruler and pencil to score the pattern lines onto the STYROFOAM; the lines should be felt through fabric.

For frame, cut (2) 22" X 3" and (2) 22 1/2" X 3" strips of fabric and (4) 20" X 2" and (4) 22" X 2" strips of batting.

Cut apart pattern pieces. Cut all pieces except windows from fabric, adding 1/4" to all sides.

Cut three layers for each window section. The first layer is from the sky color and covers the whole window area. The second layer, glued on top of sky fabric, is the window shade or lace curtain. The final layer, glued over shade, is the curtain or drape.

Use patterns to cut batting for all pieces except sky, grass and windows; pieces should be the same size or slightly smaller than pattern pieces. If desired, omit batting layer on first floor sections. Cut double layers of batting for porch roof, porch floor and sidewalk.

Layer (2) 20" batting strips along front and sides of top of frame; glue in place. Place 22" X 3" fabric strip over batting so 1/4" extends over scored lines. Position putty knife on scored lines and push 1/4" seam allowance into the foam; glue excess fabric to back. For a clean, crisp "seam," hold the putty knife straight up and down and work on a large flat surface. Tuck in stray fabric with a knife; carefully trim excess fabric. Finish tucking frame, using remaining batting and fabric strips.

Starting with sky and grass, continue to center and tuck batting and fabric pieces into foam.

Assemble windows (see step 6) and glue to quilt. Glue on lace or bead tie-backs

Cut wood baluster into (2) 4 1/2" pieces. Paint spindles and baluster white. When dry, glue to both sides of porch. Glue on door handle and knocker.

Cut (2) 1 1/2" X 1/2" fabric rectangles for chimneys; following photo, glue on wall hanging.

Glue lace along rooftops, roof edges, tops of chimneys, under windows and along front of porch.

Glue hanger to the back about 1" from top edge. Hang and enjoy your new quilt!
Your Recently Viewed Projects