TULIP One-Step Tie-Dye Kit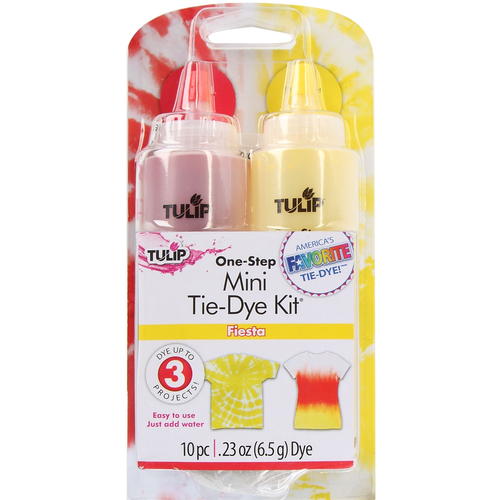 TULIP One-Step Tie-Dye Kit
www.ilovetocreate.com
Reviewed by zzz Christine zzz Weiher, Editor, FaveCrafts.com

Tie dye is a summer craft classic, and for good reason; it's bright, colorful, and perfect for outdoors. Anyone can create their own tie dye designs or follow specific instructions to dye shirts in a specific pattern, but no matter what you choose to do, the end result is always totally awesome. In order to get the best tie dye experience, you need quality dye, and that's where the TULIP One-Step Tie-Dye Kit comes in.


The TULIP One-Step Tie-Dye Kit provides you with everything that you will need to create their own tie dye masterpieces. The kit includes 3 squeeze or spray bottles, gloves, rubber bands, and a list of project ideas and inspiration, so the only things you need to get started are water and T-shirts, or whatever item you want to dye. You won't need to pre-soak your shirts before using the TULIP One-Step Tie-Dye Kit, and the color won't fade in the wash once your projects are complete. Plus, you can easily mix the kit's fuchsia, yellow, and turquoise dyes to create shades of purple, green, or orange for their tie dye projects.


Whether you get the kit with the spray bottles or the squeeze bottles you're sure to have a fun time. The spray bottles are neat because you can create a fun splash-like design that will make your project unique. The TULIP One-Step Tie-Dye Kit can dye up to 9 projects, so you can easily use this kit with a small group of friends. No matter how you choose to use it, the TULIP One-Step Tie-Dye Kit is truly a one-stop shop for tie dye fun.



Your Recently Viewed Projects