Polymer Clay Dog Magnets
These polymer clay tutorials from Becky Meverden show you how to easily make polymer clay dog magnets for each of your family members. Keep your family organized and your fridge stylish.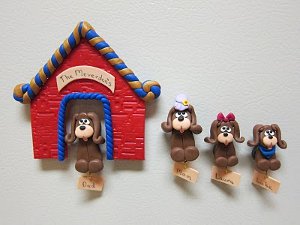 Materials:
Needle-nose pliers
Kato Nublade or knife
Kato Nuflex blade
Round toothpick
5" x 8" index cards
Scissors
E-6000 adhesive
bBlack fine-tip permanent marker
Circle template, optional
For Dog House:
Kato Polyclay: red, ultra blue, gold, beige
Three 1/2" round magnets
Kato Repel Gel
Pasta machine or acrylic roller
Shade-Tex Architexture Rubbing Plates: stone
For Daddy Dog:
Kato Polyclay: brown, black, white, red, beige
Pink clay: Mix a 1/4" ball of white with a 13/64" ball of red
For Mommy Dog, same as Daddy Dog plus:
Kato Polyclay: violet, yellow, orange, white
Lavender clay: 3/8" ball of white plus 9/32" ball of purple
3/16" Kemper flower cutter
For Brother Dog, same as Daddy Dog plus:
For Sister Dog, same as Dady Dog plus:
For each dog:
1/2" round magnet
Eye pin
7mm jump ring
Instructions:
Condition clay according to manufacturer's instructions.

To make the house pattern, fold a 5" x 8"index card in half the widest way. Use scissors to cut 1-5/8 inch, parallel to the fold, 1-1/2 inch from the open end. Angle towards the fold and cut approximately 2-1/2 inches.

For the door, cut 1 inch from the fold and up 1-1/2 inch and then curve around to the fold. Open and you will have a house pattern.

To make the house: Flatten a sheet of red through the pasta machine at a #1 setting (1/8 inch). Rub the sheet with Kato Repel Gel to keep the sheet from sticking to the rubbing plate. Set the rubbing plate against the sheet and carefully run both through the pasta machine. Lay the pattern on top of the sheet and use the Nublade to cut out house.

For the roof: Roll a 1/4-inch-diameter log of both ultra blue and gold. Twist together and curl one end. Press around upper edge of house and cut off 1 inch beyond end and curl.

For the door trim: Roll a 1/8-inch-diameter ultra blue 12-inch-long log. Fold log in half and twist both ends. Press around door opening and cut off excess.

For the sign: Flatten a sheet of beige through the pasta machine at a #4 setting (3/64 inch). Curve Nuflex blade and slice sheet. Curve blade again and slice 3/8 inch from previous slice. Cut a sign that is 1-5/8 inch long. Set aside rest of beige sheet to be used for name tags for the dogs

To make the daddy dog body: Roll a 5/8-inch ball of brown into an egg shape. Use toothpick to draw center line 1/4 inch from the top to the bottom. Draw a half circle at the top of the line.

For the feet, flatten two 5/16-inch balls of brown and attach to the bottom of the body.

For the head, flatten a 7/16-inch ball of brown into an egg shape. For the eyes, flatten two 7/64-inch balls of white into egg shapes. Press narrow ends together and press onto head. For pupils, roll two 5/64-inch balls of black and press onto each eye. For the snout, flatten a 5/16-inch ball of beige into an oval. Press onto the head under the eyes. For the nose, flatten a 3/32-inch ball of black into an oval and press onto the snout. For the mouth and tongue, use the toothpick to indent bottom of snout. Flatten a 1/8-inch ball of pink into a teardrop and use toothpick to press onto snout and to indent tongue.

For ears, roll two 7/16-inch balls of brown into 1-1/4-inch-long tapered logs and flatten. Curl under the narrowest end and curl out the widest end of each ear. Press onto both sides of the head. Press head onto top of the body.

Make the mommy dog the same as the daddy dog. For the hat, flatten a 1/4-inch ball of lavender. For the brim, roll a 1/4-inch ball of lavender into a 5/8-inch-long log. Flatten and pleat using your fingers. Press onto the top of the head. Press the hat on top of the brim. For the flower, flatten a small sheet of yellow through the pasta machine at a #5 setting (1/32 inch). Use the flower cutter to cut out a flower. Roll a 1/16-inch ball of orange and press onto the center of the flower. Press flower onto the hat.

To make the brother and sister dog, follow the directions for the daddy dog except use the following ball sizes: body: 7/16 inch, feet: 9/32 inch, head: 3/8 inch, eyes: 3/32 inch, pupils: 1/16 inch, snout: 9/32 inch, nose: 5/64 inch, tongue: 3/32 inch, and ears: 3/8 inch.

For brother's kerchief, flatten a small sheet of turquoise through the pasta machine at a #5 setting (1/32 inch). Use Nublade to cut a triangle wide enough to fit around the neck, 3/4 inch long on its longest side, 1/2 inch long on the other two sides. Place around the neck of the dog.

For sister's bow, flatten two 5/32-inch balls of magenta into triangles. Use toothpick to press a like into each triangle. Press together slightly. Roll a 7/64-inch ball of magenta and press into the center. Press bow onto the top of the head.

Press an eye pin into the bottom of each dog.

For the name tags, use the beige sheet from the house sign above. Use the Nublade to cut rectangles, 3/8" x 3/4". Use a toothpick to make a hole in the center top of each tag. Make one for each dog.

Bake house, house sign, dogs and name tags according the clay manufacturer's instructions.

When everything has cooled, use black permanent marker to write the family name on the dog house sign and individual names on each name tag. Glue dog house sign over door.

Use the needle-nose pliers to attach a jump ring to the eye pin of each dog. Add name tag to each dog. Close each jump ring.

Glue three magnets to the back of the house, one near the top and the remaining two near both bottoms. Glue a magnet to the back of each dog.
Your Recently Viewed Projects
Join our community of 5 million crafters!
Get free craft projects, exclusive partner offers, and more.
Thank You for Signing Up!
There was an issue signing you up. Please check your email address, and try again.
Polymer
Polymer clay craft projects are fun to do. Choose from tons of polymer craft projects that let you express your creativity and imagination. Use polymer clay beads, or follower a polymer clay tutorial here.