Different Types of Craft Paint
Follow our guide for choosing the right craft paint. You'll learn the different paints and their uses!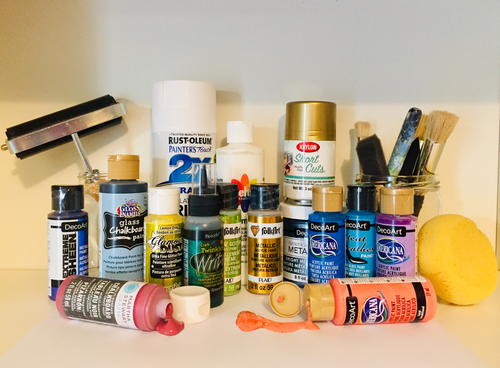 Have you ever stood in the paint aisle of your favorite craft store totally confused over which paint to buy for your project? It's no wonder with the myriad of products on the market today…a dozen or more brands, hundreds of bottles, jars, spray cans, and all those specialty finishes!

Let's try to make some sense of the different types of craft paint here. 

Craft paint is now formulated to adhere to just about anything and everything including wood, metal, glass, glazed ceramics, plastic, fabric, leather, Styrofoam, paper, artificial flowers and more! It seems there is nothing that cannot be painted these days…..as long as it doesn't move too fast!

The type of surface you are painting on is key to choosing the correct product.

First determine whether your surface is porous or non-porous. Regular acrylic craft paint will adhere well to porous surfaces such as bare wood, paper mache, and chipboard easily but may peel or chip from a non-porous surface such as glass, ceramic, or bare metal. Special surfaces such as fabric or leather require specialized paint formulas to resist cracking and hold up during repeated use and washing.
Different Types of Craft Paint
Standard Acrylic Paints
Acrylic Craft Paint
Acrylic craft paint such as DecoArt Americana, Delta Ceramcoat, and FolkArt Acrylics are good choices for porous surfaces such as bare wood, paper mache, medium density fiberboard (MDF), chip board, and primed canvas. These paints are offered in the widest array of colors of all craft paints and are readily available in craft stores and online.  

Acrylic craft paint is the most economical of all the craft paints on the shelf today. Cost ranges from $.75-$2.00 for a 2 oz. bottle. Price determines quality, however. It may be worth paying an extra 25- 50 cents for a bottle of premium paint which will have better binders and more pigment and thus provide better coverage and adhesion.

Acrylic craft paints can be brushed on, sponged on, rolled on, and stenciled on. They dry to a flat finish and should be varnished with brush-on or spray-on acrylic topcoats to protect the finish and add sheen if desired. Avoid using polyurethane varnishes as they will most likely yellow over time.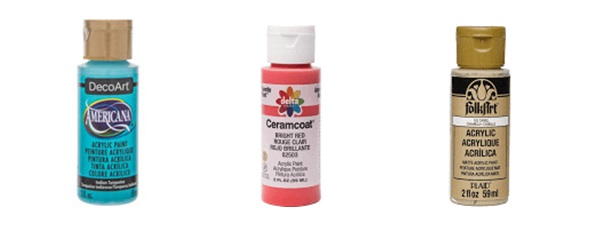 Adhesion Mediums
If you have a nice stash of acrylic colors, adhesion mediums can save you the cost of investing in special paints for slick surfaces or fabric. 

DecoArt's Adhesion Medium expands the types of surfaces you can use acrylic paints on. Mix it with acrylic paint to improve adhesion to slick, porous surfaces. 

Fabric painting mediums offered by DecoArt and Delta make acrylic paint flexible and washable on textiles.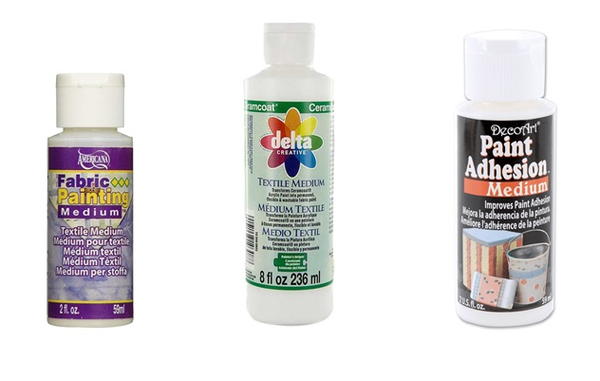 Multi-Surface Acrylics
For porous as well as non-porous surfaces, the new multi-surface paints are an ideal choice!

These paints are can be used on indoor and outdoor surfaces and have a built-in sealer which makes them a one-step process. Different brands offer a variety of types of paint finishes such as matte, satin, and gloss so pay attention to the labels.

Major paint brands that offer such paints include DecoArt Multi-Purpose Satin Acrylics and Gloss Enamels, Delta Ceramcoat Select Multi-Surface, Folk Art Multi-Surface and Martha Stewart Multi-Surface paints. Most brands claim good adhesion to almost anything you could think to paint on including all porous surfaces, Terra cotta, masonry, glass, ceramic, paper, fabric, Styrofoam, plastic, and even soap and candles!  The paints are dishwasher safe on glass and glazed ceramic if cured in a home oven.

On the downside color choices are limited but colors can be mixed to broaden that spectrum. Expect to pay between $2 -3 per 2 oz. bottle.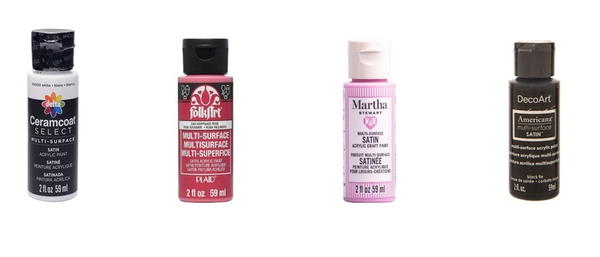 Spray Paints
Spray paints have come a long way in recent years. Several manufacturers offer a wide variety of new spray paint formulas in oodles of trendy colors, many sheen options, as well as specialty finishes such as stone and moss textures, frosted glass, glitter, metallic, and more!

Spray paints are pricier than brush on alternatives and will set you back $6.00-$15.00 per can. They can save time and money if you only need a single color or two. They are wonderful for covering large areas quickly and for painting wicker and projects that are difficult to use a brush-on paint. They provide the smoothest finishes on hard surfaces such as ceramic and glass.

On the downside they need to be sprayed in well ventilated areas and cannot be used in extreme temperatures or humid conditions. Most spray paints are not compatible with Styrofoam and some plastics. Read labels carefully to be sure it is compatible with your surface.

Rust-Oleum's 2X Ultra Cover and Krylon's Fusion All-in-One paints have built-in primers and boast excellent coverage and adhesion to porous and non-porous surfaces.

Design Master's ColorTool Sprays can be used on a long list of surfaces including unusual ones such as fresh, dried, and silk flowers, fabric and ribbons, and even Styrofoam!

What are you waiting for? Try your hand at spray painting!

Party Glitter Pumps  Folding Chair Makeover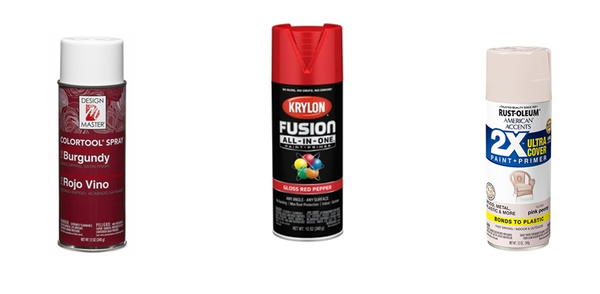 Chalk Paints
Chalk paint, not to be confused with chalkboard paint, has become extremely popular with crafters and DIYers in recent years and offers superior adhesion to many porous and non-porous surfaces. It can be applied with a brush or roller directly over previously painted and varnished surfaces making them a great choice for renewing furniture and home décor items. No sanding or stripping is needed to give items like picture frames and old chairs new life! 

Chalk paint comes in a variety of sizes and home décor colors.  You will find both brush-on and spray-on formulas in the craft paint aisle. It covers in one or two coats and is ideal for distressing, layering colors, stenciling, and image transfers. The paint dries very quickly to an ultra-matte finish but does requiring sealing.

Most brands offer waxes and brush on varnishes to seal your painted projects. Waxing chalk paint has a pretty steep learning curve to get it right and requires special brushes which can be costly. Varnishing over chalk paint is much easier and a more affordable option. 

DecoArt has expanded their Chalky Paint line to include a stain blocker, crackle and image transfer mediums, varnishes, as well as a special formula for glass. 
Specialty Paints
Metallic and Pearls
Most craft paint brands offer luscious premium metallic and pearl paints in a wide array of colors and several finishes such as matte, satin and gloss. Some colors are transparent so under painting your project with an opaque acrylic color may be necessary.  Not all metallic and pearl paints are appropriate for slick surfaces so read labels carefully or consult the manufacturers' websites.

DecoArt's Dazzling Metallics are a premium paint made with the brightest metallic flakes and are sold in 2 oz bottles. Some colors are offered in pearl finishes, writer bottles, as well as glazes for antiquing and faux finishing.

DecoArt has expanded their lines of metallic paints adding Matte Metallics for a more subtle matte finish, Americana Décor Metallics and Elegant Finish Metallics in 8 oz. containers for larger, home décor projects. These formulas can be used on both porous and non-porous surfaces and even fabric with little to no prep without the need for special mediums.

Plaid offer dozens of gorgeous metallic and pearl paints in their FolkArt line as well as a new exciting product called Brushed Metal. Brushed Metal can be used on wood, terra cotta, canvas, rigid plastic, papier mache, metal, glass and ceramics and is even safe for outdoor use.

Use Plaid's new Color Shift or Delta Ceramcoat Flash Metallic paint on your next craft project to achieve metallic sheen that shifts in changing light.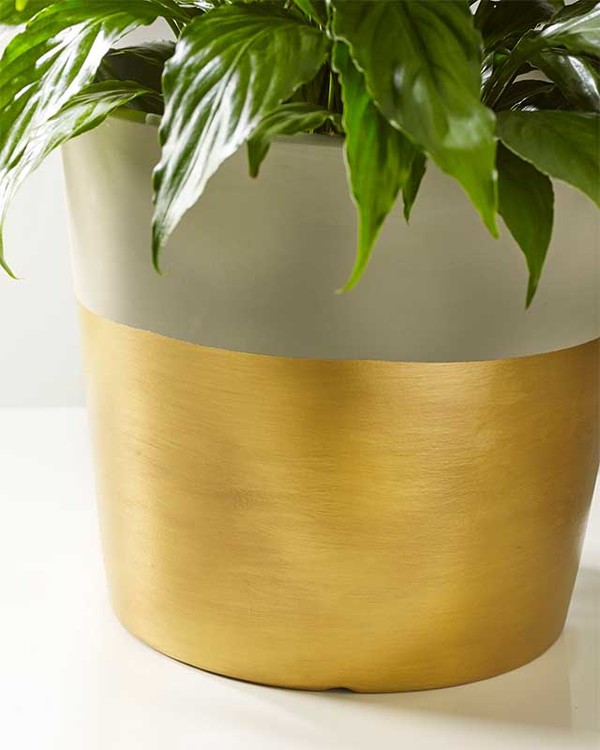 All that glitters…
Glitter paints are a great way to add sparkle and pizzazz to your craft projects without the usual mess of applying glitter with glue. Glitter is suspended in a liquid base and can be brushed over top of your painted project. Once dry the glitter will not flake off. 

Some glitter paints are opaque and can be used without a basecoat, but others are not. In the latter case, projects should be base coated in a similar opaque acrylic shade first.

Color choices abound in many lines as do the size of glitter particles. Everything from super fine glitter to big chunky particles are available with some products offering multiple sizes in a single bottle.

Glitter paints are compatible with most porous surfaces and some non-porous surfaces if used for decorative purposes only. They are not appropriate for washable fabrics or food containers and should not be used on outdoor projects unless top-coated with an outdoor sealer.

Plaid offers a fine glitter paint called Extreme Glitter as well as Glitterific paint that contains multiple sized glitter for a blast of sparkle!

DecoArt offer a similar variety of glitter paints including Galaxy Glitter, Craft Twinkles and Glamour Dust.

You can get your glitter on in a hurry with spray-on formulas such as Krylon's Glitter Blast or Glitter Shimmer or Rustoluem's Glitter Spray Paint. These formulas can be used on most surfaces you can use regular spray paints on.

Brush-on glitter paints cost between $2-3 for a 2 oz bottle while spray-one will run $5-10 per can.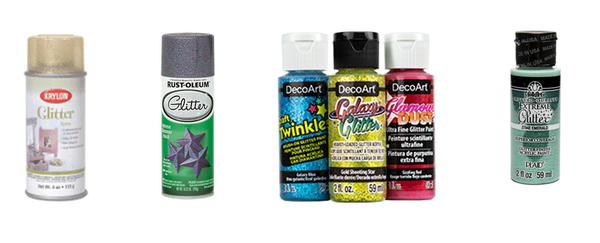 Outdoor Paint
While the new multi-surface paints can be used on your outdoor projects, there are specialized formulas for outdoor paints as well. These tried and true paints are formulated for superior UV protection and weather resistance without cracking or peeling. They are self-sealing and require no primers.

Folk Art's Outdoor Paint comes in 30 gloss colors and half a dozen metallic shades. DecoArt's Patio Paints are also offered in a glossy formula and boasts 54 colors, 5 neon shades, and 3 metallics. A 2 oz bottle of outdoor paint will run you around $2.50.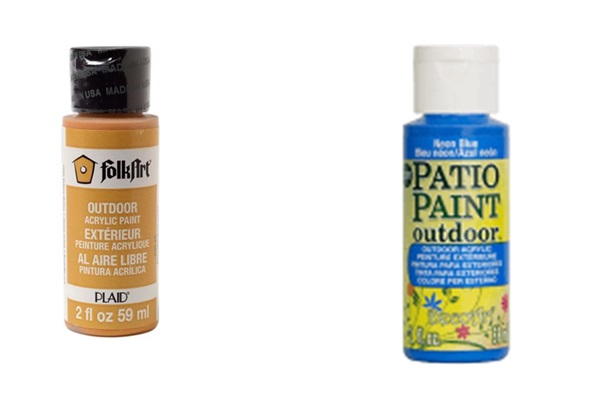 Fabric Paint
Several paint brands offer premium paints specifically designed for fabric. Cost can add up fast if you need a lot of colors, but the high quality of these paints may be worth it if you paint on fabric often or are painting a special garment.

Fabric paints are formulated for superior adhesion to textiles while remaining very soft and are machine washable. Popular brands include DecoArt's SoSoft Fabric Paints, Folk Art Fabric Ink, and Tulip Soft Fabric Paint to name a few.

Many brands have expanded their lines to include fabric sprays, writers, glitter formulas, metallics, neon colors, glow in the dark medium, and dimensional paint. Prewashing the fabric is a must and heat setting may be needed as well. It's very important to read instructions carefully! Basic fabric paint is about $1 an ounce but the special formulas will set you back more.

Practice fabric painting with these fun projects!

Watercolor Painted Tote Bag 30+ Fabric Painting Ideas with DecoArt® Stylin™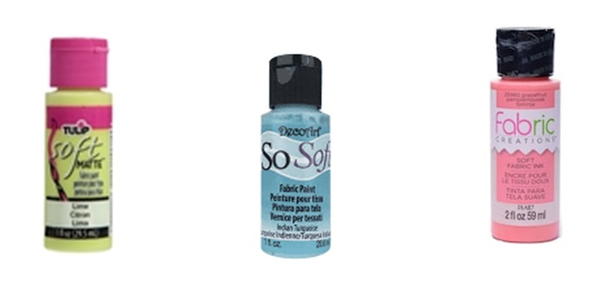 Leather and Vinyl
There doesn't seem to be a single surface that cannot be painted…including leather and vinyl! DecoArt's Styling Patent Leather and Folk Art's Leather Studio paints are formulated to adhere to shoes, purses, belts, and even furniture without peeling, chipping or cracking. It is a one step process…no primers or sealers are needed. Color choices are very limited but can be mixed to expand your options. Expect to pay $3-5 over bottle for this special paint.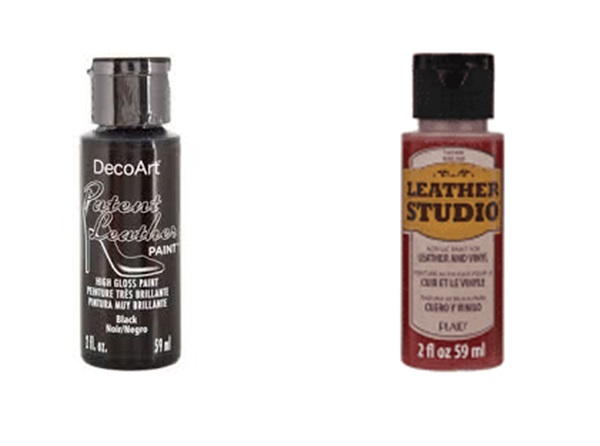 Chalkboard Paint
Leave a message for the kids on doors, walls, furniture, boxes, or label your recycled cans and bottles…you name it and you can make a chalkboard out of it!

Chalkboard paint come in brush-on and spray-on formulas as well as a wide array of colors. You don't have to settle for boring black or grungy green with Martha Stewart's Chalkboard paint in Grape Jelly or Habanero!Can't find just the right shade…no worries with DecoArt's Clear Chalkboard coating which can be applied over your favorite acrylic colors.

Multi-Surface chalkboard paint is also an option expanding the number of surfaces one can turn into a message board….glass, Terra cotta, metal and even fabric are not off limits!

Depending on brands, chalkboard paints come in 2-8 oz sizes and are reasonable priced.  Read labels carefully to see if your surface is on the list.

Some brands suggest priming your project to achieve a smooth writing surface. Some chalkboard paints need to be conditioned with chalk before using so read labels carefully before you purchase a product.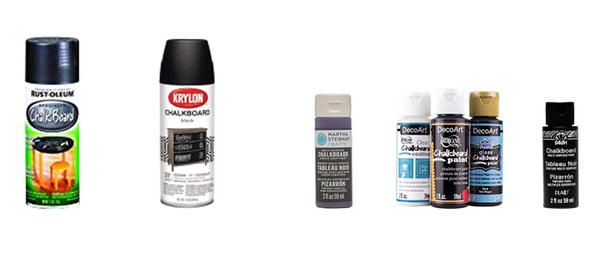 A Final Thought
When in doubt…. read the package!

Most manufacturers provide great information right on the back of the bottles and cans. For example, if you're looking for a craft paint for metal, you'll want to read the label on multi-surface paints to see which ones are specially formulated for that use. 

For more detailed information on the different types of paints and their uses you can consult the company's website. There you will find color charts, safety data, project ideas, and perhaps short how-to videos.

If you are still uncertain that you have selected the right paint for the job, try the product out on a scrap before you dive into your next project.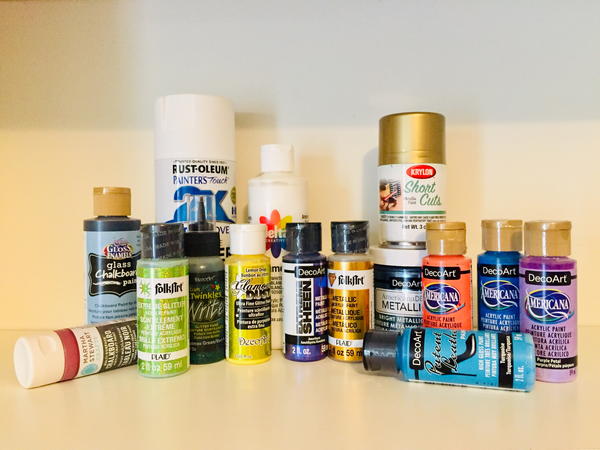 Photo Credit: Liv Viapiano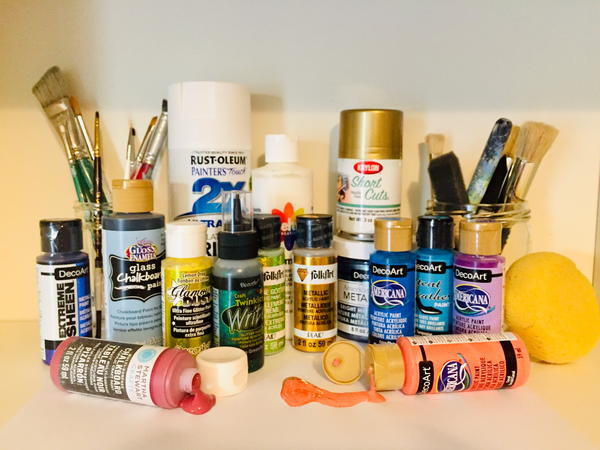 Photo Credit: Liv Viapiano
Your Recently Viewed Projects