Colorful felt and holiday stencils make homemade ornaments easy and fun to create. The whole family can help create these easy felt Christmas ornaments from I Love to Create.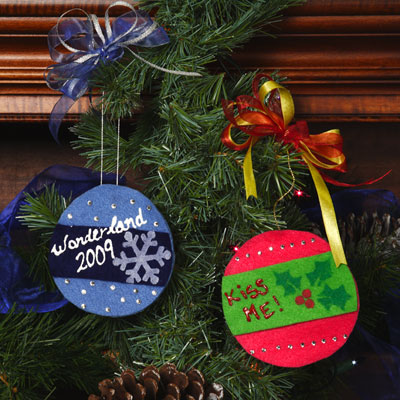 Materials:
Tulip® Multi-Surface Stencil™
Ornaments
Snowflakes
65000 White
65130 True Red
Tulip® Glam-It-Up!™ Fashion Art Tweezers™
Aleene's® Original Tacky Glue®
Tulip® Soft Fabric Paint™
BI15790 Crimson Red
BI15799 Holiday Green
Tulip® Cordless Heat Setting Tool™
Tulip® Glam-It-Up!™ Iron-On Crystals™ 23123 300 Clear Pack
Ruler
Paper towels
Ribbon: gold, red, silver, blue
Wedge makeup sponge
Chalk
Thin cording: gold, silver
Paper plate/foil
Scissors
Felt: red, green, light blue, dark blue
Large cup or circular object – 4" diameter

Instructions:
Place circular object on felt and use chalk to trace two circles. Cut out. Repeat on other colors of felt if desired.

Measure and use chalk to mark a 4" long by 1½" wide strip on darker color of felt. Cut out.

Cut desired length of cording for ornament loop. Squeeze Original Tacky Glue around edge of one circle, then create a loop with cording and press into glue on top edge of circle. Press matching circle on top of cording and glue, aligning edges of circles and sandwiching cording in between circles.

Glue the dark felt strip across center of top circle. Let dry, then trim edges of strip to align with circle. Refer to photo.

Choose desired holiday stencil and remove from packaging. Peel from backing and press stencil onto felt strip on ornament. Run a finger along all stencil edges to seal from paint seepage.

Squeeze a puddle of Soft Fabric Paint onto paper plate or foil. Dab flat end of makeup sponge into paint, tapping off excess on a clean area of plate or foil. Dab into stencil openings. Refer to photo for color placement. Remove stencil and let dry.

Start flow of 3D Fashion Paint on a paper towel, applying an even pressure on bottle for a smooth line. Using True Red Slick for red and green ornament and White Slick for blue ornament, write out desired wording on ornaments. Refer to photo. Let dry.

Use Fashion Art Tweezers to place crystals where desired on ornaments. Adhere crystals to ornaments with Cordless Heat-Setting Tool, following package instructions.

Use ribbon to tie bows to ornament loops.

More Felt Ornaments:
Your Recently Viewed Projects