Sparkle Sequin DIY Suncatcher
If you're looking for beaded suncatchers to make yourself, don't forget the sequins.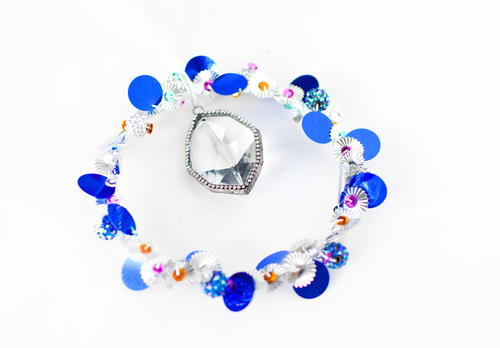 Suncatcher crafts reach a totally new level with this Sparkle Sequin DIY Suncatcher tutorial! Learn how to make a stunning suncatcher. It's easier than you think! With the help of sequins, beads, and those wire wrapping skills, you'll have a lovely new suncatcher in no time. This craft is lovely for summer, and it will add cheer during the overcast winter months. Grab the gals and have a suncatcher making party! It will be lovely to see the ways different colors and beads affect the finished project.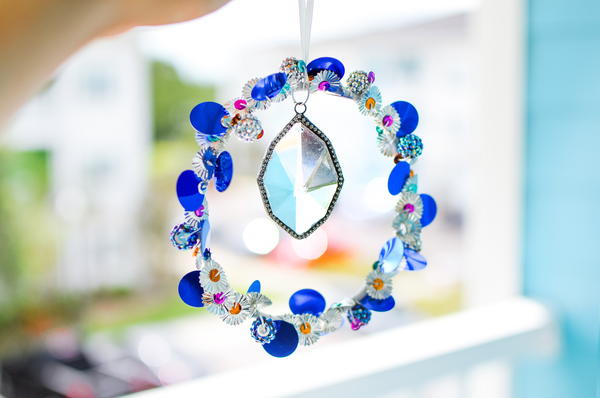 Let in the sunlight with this cute DIY sequin suncatcher! Featuring a large focal crystal, sparkly sequins and a few pave beads, this bright and colorful home accessory looks great in any window.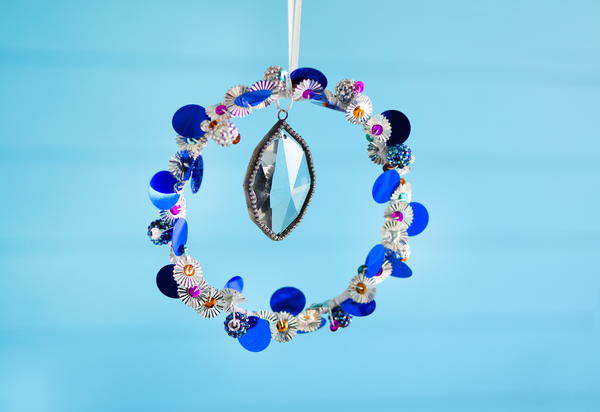 This is super easy to make, and great for kids as well. Simply wire wrap over a metal hoop to create this piece – choose any colors you'd like, or do a fun rainbow theme!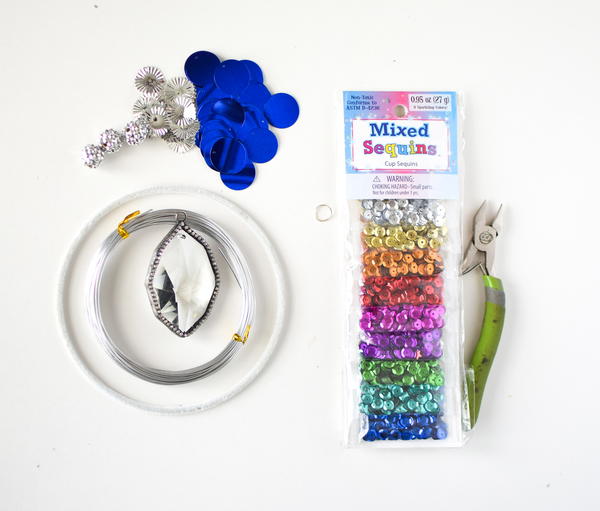 Step 1:
Gather materials. Needed is a metal hoop (you can find these at craft stores like Joann Fabrics), 20g craft wire (I used aluminum wire, it's very flexible), a large focal crystal pendant, sequins and large acrylic pave beads, mixed sequins, a large 10 or 12mm jumpring, and wire cutters.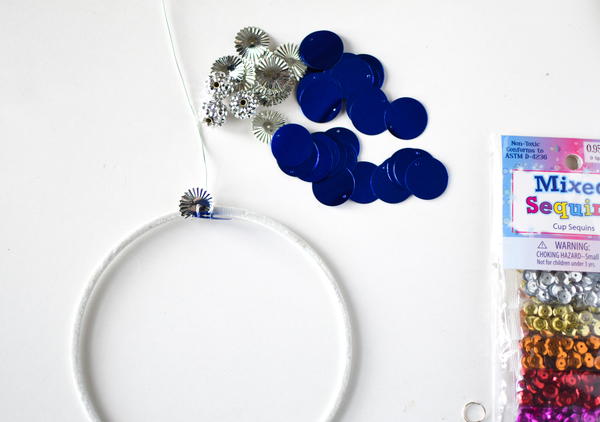 Step 2:
Cut about a 2' length of wire. Wrap the very end tightly around the top of the hoop. Add two sequins, and wrap again around the hoop, catching the sequins in the wrap. 
Step 3:
Continue wrapping beads and sequins. I mixed small and large sequins in each wrap, to make sure there was lots of color! You can pull (gently) the sequins to sit at the top or bottom of the hoop, so it gives a more random look.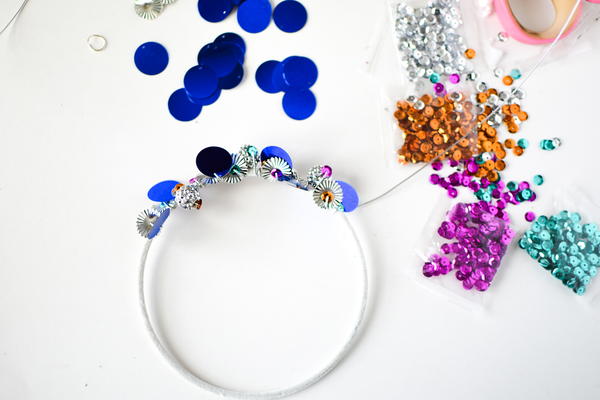 Step 4:
Continue wrapping, and if you ever run out of wire, simply cut another 2' and wrap on where the other left off.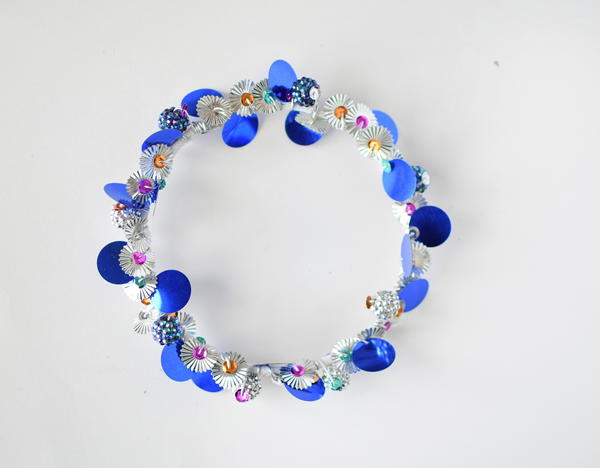 Step 5:
Finish off the end of wire by wrapping a few times tightly around the base to secure, and cut off the excess. Your hoop is complete! Time to add the focal crystal.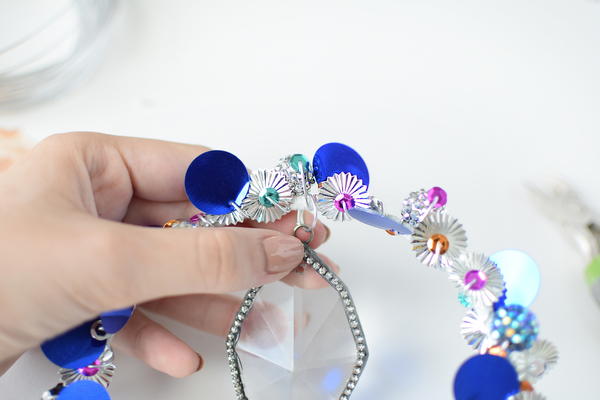 Step 6:
Using your large jumpring, attach the focal crystal around the top of the hoop.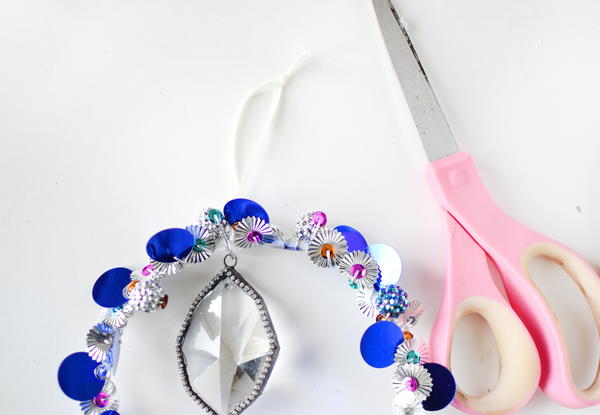 Step 7:
Cut an 8" piece of ribbon and tie around the top of the hoop. This creates the ribbon hanger. Simply place this in front of your window, etc, for some lovely sparkle! You can make these in smaller sizes as well and use them as ornaments around Christmastime. Also, try to create a small one to place around your car's rearview mirror, as a car accessory!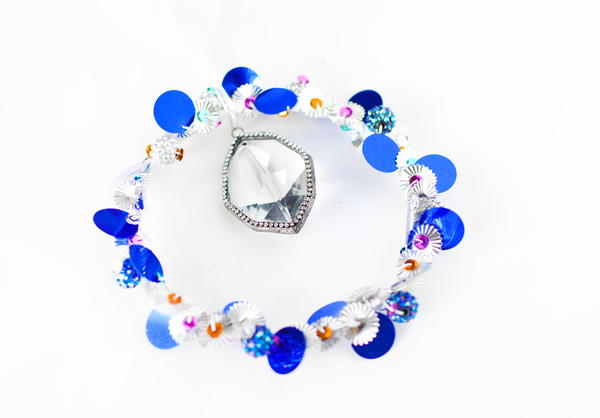 Your Recently Viewed Projects