Artist Trading Cards
Find designs for 8 different artist trading cards with products from USArtQuest. This project certainly provides artist eye-candy from Susan Pickering Rothamel.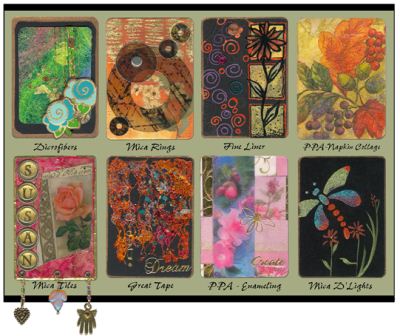 Dicrofibers: Fluff fibers, Gildenglitz, & Mica Flakes onto pressing parchment. Cover with laminate. Cover with parchment and press. Trim and embellish with cut-out small paper flowers and gold cord. Adhere to Art Canvas using Great Tape.

Mica Rings: Paint Art Canvas using Perfect Pigments. Let dry. At the top half of the card, use Duo Adhesive with a detail brush and paint small lines onto painted surface. Let dry (Duo will dry tacky). Apply Gildenglitz – Gold to tacky areas, burnish excess off using a Texture Sponge. On the bottom half of the card adhere dried flowers using Perfect Paper Adhesive. Attach Mica Rings of all sizes to the card using Perfect Paper Adhesive – Gloss.

Fine Liner: Fill Fine Liner Calligraphy Pen with Duo Adhesive. Let dry. Apply Jewelz Sparkling Mica Pigments to tacky areas using a detail brush. Remove excess powder using a soft brush. Stamp & emboss flower image. Paint in using MicaColor Watercolor.

PPA Napkin Collage: Paint the Art Canvas using a brush or sponge with Perfect Pigment®. Paint one or several colors, and let them dry. Adhere pretty papers or paper napkins, using PPA-Matte or Gloss. When complete, use PPA-Gloss as your finishing coat.

Mica Tile Encapsulation: Use Perfect Paper Adhesive to adhere a picture, face down onto a Mica Tile and let dry. Use fancy letters, beads, & charms to embellish and finish this Art Canvas.

Great Tape: Run ribbons of Great Tape covering every part of the piece of Art Canvas. Use opposing fingers and gently rub the tape in two directions. By controlling the direction and amount of rubbing, the tape begins to resemble lace. Some papers require more pressure than others. (Great Tape is repositionable for about 1 hour, giving you plenty of time to do the rubbing. After that, it gradually becomes more permanent). Sprinkle on Mica Flakes for texture and color. To firmly adhere them, pat the flakes with your fingers. Apply gilding leaf and burnish off the excess using a Texture Sponge. Save all the tiny bits for another project.

PPA Enameling: Begin by applying Great Tape™ to every area of the matboard. Cut old greeting cards, scraps of decorative paper, or scrapbook paper, fitting them together like a jigsaw puzzle. Apply the pieces to the sticky matboard. Trim the edges with sharp scissors. Carefully apply a wash of MicaColors ™ to the entire piece, filling in any little gaps and coating the Art Canvas edges to finish it nicely. Quickly wipe off excess MicaColors™ from the shiny papers or topmost surfaces. Apply an exceedingly generous coat of Perfect Paper Adhesive™ - Gloss to the entire surface and allow it to dry thoroughly. Mount it on layers of cardstock and apply the finished piece to a card, using Great Tape™.

Mica D'Lights: Stencil 101 Artist's Cement-Heavy onto a piece of Art Canvas. While still wet sprinkle Mica D'Lights in several colors over the Artist's Cement. Let dry, and brush excess D'Lights off. Using a MicaColor Palettes paint flowers underneath dragonfly.

Note: All Art Canvas can be outlined with a Krylon Leafing Pen or Foil-It Tape.
Your Recently Viewed Projects
Join our community of 5 million crafters!
Get free craft projects, exclusive partner offers, and more.
Thank You for Signing Up!
There was an issue signing you up. Please check your email address, and try again.