Can You Bring Knitting Needles on a Plane? + Other Knitting Travel Tips
Our tips for traveling with knitting supplies and how to bring knitting needles on a plane.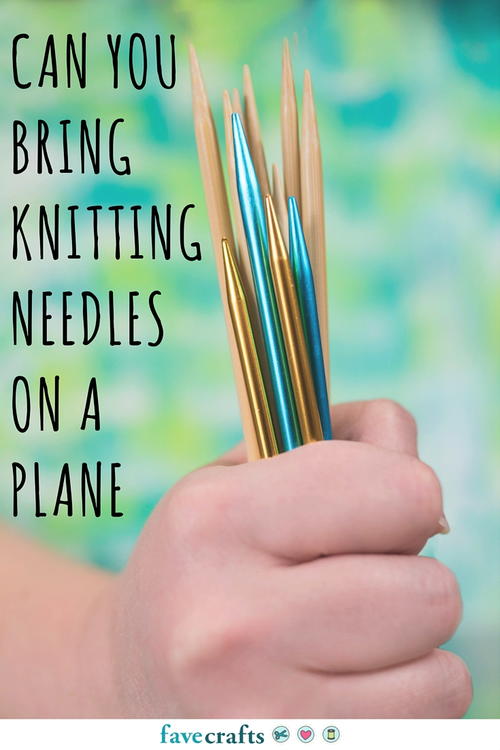 Has this happened to you?

You're supposed to fly to your daughter's house for Thanksgiving. You accidentally slept in and have to speed to get to the airport on time, only to be greeted by a line of people waiting to get through security. You grumpily trudge through the sluggish line, looking forward to when you can finally sit down with your knitting needles on a plane and continue knitting your granddaughter's birthday sweater.

At last, you reach the front. You place your bag on the conveyor belt, walk through the metal detector, and freeze. The TSA agent is slowly taking your knitting needles out of your carry-on bag. You start to panic, thinking, Can you bring knitting needles on a plane? Are they going to arrest me? Am I going to jail? 

But the agent simply inspects the needles, smiles at you, hands them back, and says, "Have a nice flight." Wait, what?

It turns out that knitting needles are allowed on airplanes, according to the Transportation Security Administration. The TSA says they understand that crafting is a soothing way to pass the time during a long flight, so knitting needles and crochet hooks are acceptable. You can also bring scissors on a plane to cut extra yarn, as long as they have blunt edges (like child scissors) and are less than four inches long. Thread cutters or cutters with a blade are not permitted. 

It's good to keep in mind, however, that the TSA can always confiscate something from your carry-on bag if it looks potentially dangerous, so you may not want to fly with your best set of knitting needles. Remember, the TSA is there to keep everyone safe. Be polite if the agent questions you about your needles, and you shouldn't have anything to worry about.

Keep reading to find out how to make your knitting needles look less threatening and other knitting travel tips. You can also see 11 other (slightly strange) items that are okay to bring with you on an airplane.

Source: @AskTSA Travel Tips In Over 140 Characters: Knitting Needles & Sewing Supplies from blog.tsa.gov.
Do you want a project that you can start and finish in one flight? Here's a cute pattern that you can make in less than two hours:Knit Two Hours or Less Scarf
Tips for Flying With Knitting Needles
Here are some tips on how to get through airport security smoothly with your crafting supplies.
Bring plastic or bamboo needles instead of metal ones.

Straight needles may look threatening to a TSA agent, so pack circular needles instead to have a better chance of keeping them.

Pack your needles in a pencil case with pens and pencils so they blend in.

When placing your luggage on the conveyor belt, pull out your knitting project and needles and place them in the bin like you would an electronic device so the agent can easily see them.

Don't bring anything on a flight that you don't want to lose. Keep your favorite needles at home and bring some cheaper ones on the plane.

If a TSA agent pulls you aside, politely explain why you have the questionable item. Be nice to them if you want them to be nice to you.

Check the TSA's official list of prohibited items before you travel, as the policy may be updated before you go. (Your airline may also have a separate policy.) Also make sure to check the prohibited items for each country you'll be visiting if you are flying internationally. Just because you can fly out of the U.S. with knitting needles doesn't necessarily mean you can fly into another country with them.
11 Weird Things You Didn't Know You Could Bring on an Airplane
Kayaks
Ice skates and rollerblades
Wrenches, pliers, and screwdrivers (as long as they're less than 7" long)
Antlers
Soccer cleats
Breast milk
Parachutes
Wedding cake
Bowling balls
Dry ice
Human remains (ashes)
What do you like to do on long plane rides?
Your Recently Viewed Projects
Join our community of 5 million crafters!
Get free craft projects, exclusive partner offers, and more.
Thank You for Signing Up!
There was an issue signing you up. Please check your email address, and try again.