16 Crochet and Knitting Tips You Need
Take a look at these easy crafting tips to make your life easier as a knitter or crocheter.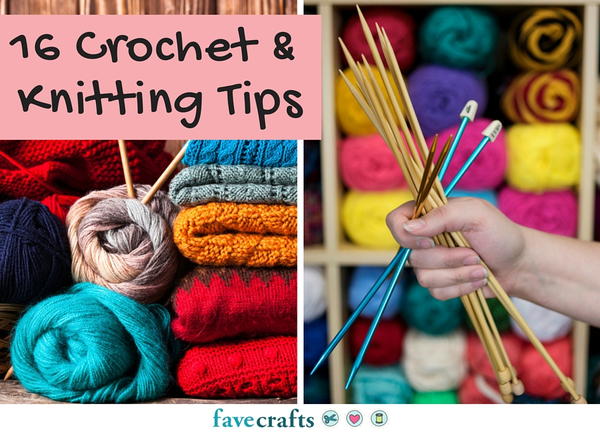 16 Crochet and Knitting Tips You Need
Calling all crocheters and knitters! We polled the readers of our Quick and Crafty newsletter and asked them for their crafting tips. Here are the 16 Crochet and Knitting Tips You Need!

These pieces of advice come from years of crafting experience, so you know these methods have been put to the test and are useful. For example, try recycling empty plastic bottles to get your yarn and knitting needles organized. Or discover new ways to make following your crochet patterns easier.

Whether you're a beginner or more experienced, everyone can find crafting tips here to help them improve their knitting and crocheting life. Our friends at AllFreeKnitting even have a knitting needle sizes guide and conversion chart to help you understand the differences between the sizes!

Note: These are tips specifically related to knitting and crochet. If you'd like to read more general crafting advice, check out these 24 Genius Crafting Tips from Our Readers.
Crochet and Knitting Tips From Our Readers
When I work with yarn that is fuzzy, I use lanolin to keep it from tangling. - Donna

I turn my knitting inside out when making a hat on circular needles and for making slip stitches. This automatically allows for the easement of the yarn in the pattern. I knit in the back part of the circle so that I can still see what the pattern looks like. - Jayne C.

Instead of buying fancy yarn holders, I cut the top off a 2-liter pop bottle, wash and dry it thoroughly, and then put a skein of yarn in it. For smaller skeins, like Sugar 'n Cream cotton yarn, I use a 1-liter pop bottle. Gallon milk jugs could be used too, but the pop bottles are round and the skein fits in nice and neat. - Patt D'Ambrosia

Use a sticky note to keep track of where you are on a pattern, as it can be easily moved from row to row. - Kathy L.

When you change yarn in crochet projects, it is easier to "hide" the tails by crocheting them into the stitches. - Lisa S.

I like to knit and crochet, so about once a month I stop into Goodwill and look for sweaters made out of fine yarn that I can recycle. I have found woolens, silks, and cottons that were lightly used that can be taken apart and reused for nice projects. - Debbie M.

The best crafting tip I have learned since I started knitting is to use a lifeline when working lace patterns, just in case a mistake is made and not noticed until it is too late. I would rather go back a few rows than have to frog the whole thing! - Sue S.

I save all my yarn scraps that are too small for anything else, like the trimmed pieces of fringes. When I get a jar full, I use them as stuffing inside a doll or stuffed animal. - Lisa. F.

Always keep a grab-and-go bag with crochet items for when you're going on a trip and you're not the one driving. It keeps you busy and the ride goes by faster. - Jennie F.

When crocheting or knitting with a ball of wool, I decorate the outside of coffee cans with different themes to keep my ball of wool from rolling around and collecting dust. It's very convenient, especially if you have feisty pets or toddlers in your house! - Carol G.

For knitters: Keep your stitches on your needles when you set your work down by wrapping a large, thick rubber band over your stitches until you're ready to resume your knitting project. - Lois C.
 

Knitting and crochet podcasts are great to listen to when crafting (as are any podcasts or audiobooks). - Rose Ruffolo

When buying yarn or delicate material from garage sales or thrift stores, it needs to be washed. Instead of soaking and rinsing, just place the skein inside a tube sock or knee-high stocking and throw it in the washer. It won't unravel and will get clean all the way through. - Lesli

I like to make knitted or crocheted slippers, but they tend to be slippery on wood and tile floors, so I use a glue gun to make small flat dots on the bottom for traction. - L. McPhilomy

Sometimes it is hard to find the beginning stitch for a row of crochet decorative edging that is using the same colored yarn. What I do is mark that stitch by pulling a short piece of different colored yarn around that stitch with my crochet hook and tying it in a simple knot. It's very simple to do and eliminates the need to purchase row markers. - Caroline L.

I wrap sashay yarn around toilet paper tubes to keep it straight and use a free standing toilet paper roll holder so it feeds freely as I crochet it. This also works wonderfully with crochet thread. - Kelly L.
Let us know:
What other tips do you have for knitting and crocheting?
Your Recently Viewed Projects