Stay warm during your yoga class without sliding around on the mat by creating a practical pair of toe-less, heel-less socks. These easy knitting patterns are simple to make and look quite cute! Your yoga pals will be wondering where you got these cute exercise accessories.
You only need two balls of yarn for these cozy knitting projects and can customize the colors to your preference. Follow the easy tutorial to make your new favorite pair of socks. They also make great gifts for the active people in your life. You could even spend an evening knitting these easy patterns with your yoga buddies!
Materials:
Yarn: Patons® Kroy Socks (50 g / 1.75 oz) 2 balls of #55612 (Summer Moss Jacquard)
Knitting Needles: Set of four double-pointed knitting needles 3.25 mm (U.S. 3) or size needed to obtain tension.
Gauge: 28 sts and 36 rows = 4 ins [10 cm] in stocking st.

Instructions:
Cast on 64 sts loosely. Divide into (20, 20, 24) sts on 3 needles. Join in rnd. Place marker on first st for beg of rnd.
Work 10 rnds in (K1. P1) ribbing.
1st rnd: Knit.
2nd rnd: *K1. P3. Rep from * around.
3rd and 4th rnds: As 1st and 2nd rnds.
5th rnd: Knit.
6th rnd: *P2. K1. P1. Rep from * around.
7th and 8th rnds: As 5th and 6th rnds.
Rep last 8 rnds for texture pat until work from beg measures approx 4 ins [10 cm], ending on a 4th or 8th rnd of pat.
Next rnd: Knit, inc 8 sts evenly around. 72 sts. Divide into 24 sts on each of 3 needles.
Work 5 rnds in (K1. P1) ribbing.
Shape heel opening:
Next rnd: Cast off 36 sts loosely in ribbing. Rib to end of rnd.
Cast on 36 sts loosely. Rejoin in rnd.
Work 5 rnds in (K1. P1) ribbing.
Next rnd: Knit, dec 8 sts evenly around. 64 sts.
Beg on a 2nd rnd, work approx 21/2 ins [6 cm] in texture pat ending on a 1st or 5th rnd of pat.
Work 10 rnds in (K1. P1) ribbing. Cast off in ribbing.
---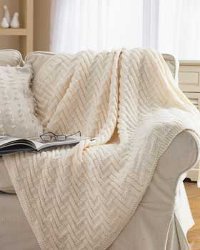 If you're looking for more easy knitting patterns,
here are 172 Knitting Patterns for Beginners.
---
What kinds of wearable knitting patterns have you made?
Your Recently Viewed Projects