Spice Girls of the Old World
These aren't your modern day Spice Girls, these ladies hail all the way from the Old World. This creative and easy project makes a great decoration idea for the kitchen. Or makes a nice gift to give to your friend who loves cooking and spends a lot of time in the kitchen. These girls are sure to bring a smile to everyone's face.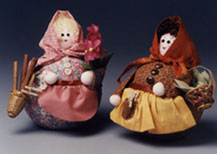 Materials:
STYROFOAM Brand Products:
Doll curls
Black beads, two 3mm to 4mm
Thread
Powdered blush
Stocking - White
small amount of Fiberfil
Acrylic craft paint: black, rose
Fabric: 1/4 yd. small cotton print (dress); 1/8 yd. each of two coordinating prints (apron and scarf)
Ribbon, 1/2" x 30"
Buttons, three 3/8"
Accessories: Silk flowers, bay leaves, cinnamon sticks, mini basket, mini clothes pins
Serrated knife
Scissors
Wooden spoon
Utility knife with sharp blade
Fabric glue
Thick white craft glue or low temperature glue gun and glue sticks
Instructions:
Cut small slice from top and bottom of 5" ball and small slice from bottom of 2 1/2" ball. Place 2 1/2" ball on 5" square of white stocking; pull stocking tightly to back of head, gathering edges and tying off. Glue flat sides of two balls together, forming head and body. Position head slightly toward the back of 5" ball to emphasize chubbiness.

To form bust area and waistline, use handle of a wooden spoon to create an indentation around 5" ball, starting about 1" from neck in the front and ending about 2-1/2" from neck in the back. Enlarge indentation slightly by cutting away a small amount of foam with the utility knife. Smooth edges of the indentation with the bowl of the wooden spoon.

Cut the following pieces from dress fabric: four 2" x 6"; one 2 1/2" x 6"; one 6" square; and two 3 1/4" x 2". Glue 6" square to bottom of ball; glue 2" x 6" pieces around back and sides of ball, overlapping edges. Glue 2 1/2" x 6" strip to the front. Cover any gaps with small scraps of fabric. Glue two 3 1/4" x 2" pieces in half, forming two 3 1/4" x 1" sleeves.

Cut two, 2" x 2" squares from white stocking for hands. Place small amount of fiberfill in center of each square, draw up edges and tie securely. Glue hand onto end of each sleeve. Glue arms to body in desired position.

Cut 8" x 2 3/4" piece of coordinating fabric for apron. Run a gathering stitch along the top and pull slightly; glue ribbon to top of apron, covering gathering stitch. Round edges, if desired. When dry, tie apron around the waist.

Cut small pieces of hair and glue to front and lower back of head (head scarf will cover sides and top). Glue on eyes. Paint on eyebrows and small, rosebud mouth; blush cheeks.

Using Pattern A, cut scarf from coordinating fabric. Tie around head. Glue three buttons to front of dress.

Accessorize doll with basket filled with silk flowers, cinnamon sticks or bay leaves. Add mini clothes pins where desired.

®™ Trademark of The Dow Chemical Company ("Dow") or an affiliated company of Dow.
For more project ideas, please see styrofoamstyle.com.
Your Recently Viewed Projects
Join our community of 5 million crafters!
Get free craft projects, exclusive partner offers, and more.
Thank You for Signing Up!
There was an issue signing you up. Please check your email address, and try again.